Is the phrase 'playing like a girl' offensive?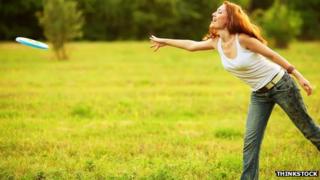 The term "play like a girl" has been banned by Liverpool FC. Is it a fundamentally offensive term, asks Tom de Castella.
The term figures in a list of those deemed offensive and to be avoided by staff of the football club.
During this year's Giro d'Italia, Bradley Wiggins raised a few eyebrows when he said: "Let's be honest, I descended like a bit of a girl really after the crash. Not to disrespect girls, I have one at home."
Despite his last minute attempt at damage limitation many took offence.
The Bob Dylan song Just Like A Woman didn't get on to throwing or playing. It did though contain the line, "But she breaks just like a little girl", points out etymologist Mark Forsyth.
The first use of girl to mean "an effeminate man" in the Oxford English Dictionary dates back to 1862, he says.
Washington Post reporter Tamar Haspel last year started her own investigation with an admission: "There's no way around it. I throw like a girl." A sequential diagram shows a boy lithely launching a ball overarm while a girl clumsily struggles to get her angles right. Sexist?
Maybe not, she argued, citing studies across different cultures showing that pre-pubescent girls throw 51-69% of the distance that boys do, at 51-78% of the velocity. But a lot of that may be down to cultural factors and expectations.
"I'm not overly worried" says former England cricketer Ebony-Jewel Rainford-Brent. "I used it to spur myself on".
She never had a problem with throwing overarm. Unlike David Gower - who preferred underarm - or Monty Panesar whose presence in the field used routinely to be accompanied by the word "hapless".
Whether running, throwing or descending like a girl they all imply the same thing, says Alexandra Heminsley, author of Running Like a Girl. "If you do it like a girl, you're doing it in an inferior manner. And that's absurd. Most men wish they could run like Jess Ennis."