Tweets of the week: Royal baby, Carlos Danger and Dominique Strauss-Kahn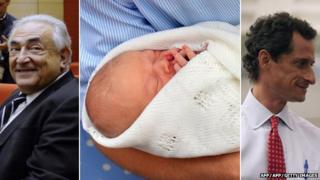 For the week ending 19 July, here is the news making waves in America - all in 140 characters or less.
1.If Prince William is anything like I was, he's hustling home on The Tube right now to assemble the Ikea crib & changing table.
Chances are, NBC's Willie Geist (@WillieGeist) and Prince William do not have much in common. Geist was one of many who followed the birth of the royal baby.
2. Georgie Porgie, George of the Jungle, BY GEORGE, Gorgeous George. I made fun of the royal baby 4 times in 30 seconds. Kid's gonna get teased
Jezebel news editor Erin Gloria Ryan (@morninggloria) worries for the future happiness of the new prince, named George Alexander Louis.
3. Carlos Danger is also the name of the House Republicans' new immigration bill.
George wasn't the only much discussed name of the week. Saturday Night Live writer Alex Baze (@bazecraze) saw a political edge to Anthony Weiner's sexting alias, which was revealed as the New York mayoral candidate admitted to sending more sexually explicit texts.
4. Don't worry you guys, if Weiner does anything shady at least we'll have Spitzer watching the city's money.
Red State editor Dan McLaughlin (@baseballcrank) says the news about Weiner shouldn't affect his electoral chances, since former governor Eliot Spitzer - who resigned the governorship for soliciting prostitutes - is running for city comptroller.
5. I'm fairly confident that al-Sisi gave his speech while wearing dark sunglasses because the eyes are the windows to the soul. #Egypt
Meanwhile, in Egypt, army chief and new Vice-Prime Minister Abdel Fattah al-Sisi called on Egyptians to take to the streets in protest at terrorism and violence. Islamists in the country warned the speech was a call to civil war, and blogger Karl Sharro (@KarlreMarks) seemed to share mistrust of the general.
6. 1.Take stage, applaud 2. Point out allies 3. Tell bad joke 4. Roads & Bridges 5. Demonize Congress 6. Thank you goodnight.
The twitter user known as S.M. (@redsteez) has noticed a pattern in President Obama's public remarks. The president gave a speech this week in Ohio about the economy.
7. "Aggravated Pimping" was a pretty big hit when it debuted in 2003.
It may sound like a hip-hop track, as Mother Jones writer Timothy Murphy (@timothypmurphy) noticed. This week, however, it was the charge presented against former IMF chief Dominique Strauss-Kahn in France for allegedly being part of a prostitution ring.
8. "Eh, I've been through worse" - paint splattered Abe Lincoln
Talking Points Memo's Brian Beutler (@brianbeutler) thought that, on the historical balance of things, maybe the vandalism against the Lincoln Memorial in Washington DC, wasn't as upsetting as people's immediate reaction suggested.
9. Snowden to be released from Moscow airport, given one hour head start, and hunted by shirtless Putin on horseback.
Internet comedian @pourmecoffee. Edward Snowden is seeking asylum in Russia, but for now remains trapped in the capital city's airport.
10. BREAKING: George Zimmerman rescues hikers from bear attack and then slips back into the night, unfit to live among civilized man.
Comedian Frank Fleming (@IMAO_) constructs a more noble alter-ego for George Zimmerman, who this week reportedly helped rescue a family from a car crash shortly after he was acquitted of murdering an unarmed black teenager.
Some tweets have been edited for clarity and style.