James Alexander Gordon: The tantalising allure of East Fife 4 Forfar 5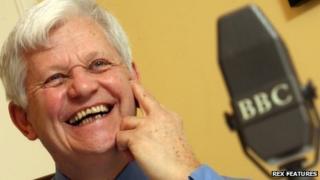 In a sad day for football supporters, James Alexander Gordon, voice of the classified results, is to retire - without ever officially reading the scoreline with which he was indelibly associated, writes Jon Kelly.
Any football fan could close their eyes and imagine hearing that honeyed, resonant Scots brogue declare the final score.
"East Fife... (downward inflection) 4. Forfar... (upward lilt) 5."
For most of James Alexander Gordon's 40-year career delivering the BBC's classified check, it was the tally you enunciated if you wanted to impersonate his distinctive, much-loved delivery.
In fact, Gordon never announced this fabled scoreline. Now he has retired aged 77 from BBC Radio 5 live after surgery to remove his larynx.
The two clubs, currently both in Scottish football's third tier, have never finished a game thus, although they have come close.
In April 1964 an encounter between them finished tantalisingly near, but the wrong way round - Forfar 5 East Fife 4.
And in October 2011 fans across the country raised their hopes during a clash which finished, disappointingly, East Fife 4 Forfar 3.
The man responsible for popularising the scoreline was legendary comedian Eric Morecambe, who would repeat it when mimicking Gordon.
Morecambe was a great admirer of the announcer and the two men became good friends. "Eric never called me James - whenever I saw him over a 20-year period he would say 'East Fife 4 Forfar 5'," Gordon said in 2012.
The fixture's musical resonance suited the delivery style of Gordon, a skilled clarinettist and pianist in his spare time.
He pioneered the much-mimicked technique of raising his tone for the winning side's score, and dropping it in sympathy for the loser's.
"It sounds so unbelievably obvious now but no-one had thought of it before," says former Scottish international turned BBC Radio 5 Live pundit Pat Nevin.
Audiences were always assured, too, that Gordon had the dexterity to deliver such a tongue-twister.
"His personality and his trustworthiness always came across, which is very hard to do when you're basically reading a list," says Nevin.
"However, I actually think there's a scoreline in Scottish football which is harder - Threave Rovers 3 Strathspey Thistle 3. Try reading it out three times, quickly. Even the great man himself would struggle."
East Fife and Forfar next meet at Bayview Stadium, Methil, on 14 September. Henceforth, surely the encounter will become known as the "James Alexander Gordon" fixture.