News tweets: Zimmerman, Liz Cheney and Rolling Stone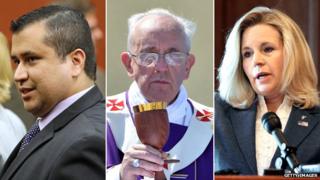 For the week ending 19 July, here is the news making waves in America - all in 140 characters or less.
1. Apparently all this time I've been trying to get on the cover of Rolling Stone the HARD way
Rolling Stone Magazine put Boston bomber Dzokhar Tsarnaev on the cover, causing Twitter waves of outrage, indifference and, in the case of musician and satirist "Weird Al" Yankovic (@alyankovic), envy.
2. Dear #JurorB37: Twitter killed your book. It's okay, though, it was in self defense, and our heart was in the right place.
An unidentified member of the jury in the trial against George Zimmerman, who was acquitted for the murder of Trayvon Martin, was quick to ink a book deal after the verdict. The contract was scuttled after sustained criticism on Twitter. Marketing professor Amanda Bower (@heyprofbow) was one of many who didn't take lightly to the juror saying that Martin played "a huge role" in his own death.
3. After incident involving false, offensive names of Asiana pilots, was NTSB overly quick in firing intern Seymour Butts?
Travel writer Bob Payne (@BobCarriesOn) after the National Transportation Safety Board parted company with one of its summer interns. The intern had confirmed as accurate to an Oakland news station several false and offensive names of the Asiana Air pilots involved in the crash landing at San Francisco's international airport.
4. What an injustice that someone so dangerous is allowed to not only walk around free, but also be the new host of The View.
While many people were still thinking about the outcome of the George Zimmerman murder trial, comedian Frank Conniff (@FrankConniff) had his eyes on something else: ABC's hiring of former Playboy model Jenny McCarthy to co-host their morning chat show. McCarthy has publicly espoused the widely discredited view that childhood vaccines cause autism.
5. For the 1st time, a drone landed itself on an aircraft carrier. Wake me up when it learns 2 play volleyball against a shirtless Val Kilmer.
It takes more than a US Navy X-47 B drone making the first ever pilotless robotic landing on a ship to impress comedian and talk show host Stephen Colbert (@StephenAtHome).
6. Isn't this kind of the first instinct for a Cheney? Invade?
When Liz Cheney announced her candidacy against fellow Republican Senator of Wyoming for the 2014 primaries, former Obama adviser David Axelrod (@davidaxelrod) issued this controversial tweet. It compares the political strategy of Cheney the younger, who spent much of her life in Virginia, to her father's pro-Iraq war views.
7. @Piersmorgan now reporting that Detroit would be just fine if George Zimmerman had only stayed in his car.
For weeks, CNN's world seemed to revolve around one news story only, and as comedian Stephen Kruiser (@stephenkruiser) remarked, it seemed too easy for some correspondents to blame all ills - even Detroit's massive bankruptcy filing - on Zimmerman, who was acquitted of murder.
8. When I wanted a cat & my husband didn't, we compromised & got cats. This is a "compromise" like that.
In a stalemate in the US Senate over a group of President Obama's nominees, Democrats threatened to unilaterally change Senate laws - the so-called "nuclear option" - to be able to approve candidates with a simple majority. Republicans ultimately accepted the nominees in what Atlantic Media reporter Molly Ball (@mollyesque) saw as more of a surrender and less of a deal.
9. Time off purgatory if you follow pope on Twitter, plus nicer room in heaven if you subscribe to his YouTube channel
The Vatican's attempt to keep up with the times by offering indulgences to Pope Francis' followers on Twitter was fodder for comedian and avowed atheist Ricky Gervais (@rickygervais)
10. Between Facebook and the U.S. Senate, the word "friend" has lost all meaning.
During this week's debate over the filibuster, which was framed as a fight to avoid political armageddon, opponents referred to each other in endearing terms as insincere as anything Washington Post correspondent Karen Tumulty (@ktumulty) had seen since the dawn of social media.
Some tweets have been edited for clarity and style.