Paper Monitor: An intervention, tabloid style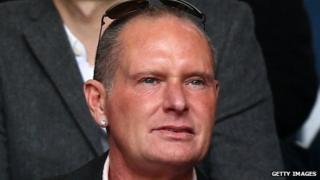 A footballer's troubles are well known. Can a tabloid front page help?
Tragically, former England player Paul Gascoigne has made the headlines for all the wrong reasons in recent years.
Gascoigne, who has struggled with alcoholism in the past, was treated at a clinic in Arizona earlier this year. Earlier this week he was taken to a London hospital after a reported relapse.
The Sun thinks it has a solution.
Its splash today features a picture of Gascoigne accompanied by the headline: DON'T GIVE THIS MAN A DRINK. Landlords and shopkeepers are invited to cut it out and stick it to their walls.
"Displaying this front page on licensed premises could stop the England legend drinking himself to death," the paper insists.
Gascoigne is not the only celebrity who has needed help. The Daily Mirror has a story about a man whose own difficulties have been well documented, namely actor Charlie Sheen.
According to the Mirror, Sheen travelled to Scotland to hunt the Loch Ness Monster.
The star was "on his best behaviour" during the four-day trip, the paper reports.
There is no indication that he succeeded in tracking down the legendary creature. Perhaps he should have persuaded a newspaper to print a front-page Wanted poster.