News tweets of the week: Wimbledon, Egypt and Satan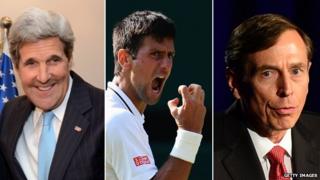 For the week ending 5 July, here is the news making waves in America - all in 140 characters or less.
1. Happy 4th of July! If you go 2 sleep tonight with the same number of fingers you woke up with, did you REALLY honor our country enough?
Comedian Stephen Colbert (@StephenAtHome) set the bar high for displays of patriotism on Independence Day, when many revellers literally take fireworks demonstrations into their own hands.
2. Congratulations to #Egypt - your revolutions are getting shorter! Now about that military coup...
People in Cairo rejoiced after the toppling of President Mohammad Morsi, but Tor Project member Jacob Appelbaum (@ioerror) thought the festivities might prove short-lived.
3. Hail Satan? Please. Hipster liberals know that worshiping Moloch and Baal is much hipper and more indy. Satan is way too mainstream. #HB2
Conservative blogger Lawrence Person BattleSwarm (@BattleSwarmBlog) after a group of pro-choice protesters started chanting "Hail Satan" in the Texas statehouse during an abortion debate. The chant was an ironic but poorly received - on all sides - response to a pro-life group singing a hymn.
4. One thing we can all agree on: Never use Julian Assange as your travel agent.
The Wikileaks founder might have helped NSA leaker Edward Snowden get to Russia, says author Robert Wright (@robertwrighter), but look what happened next. Snowden, still holed up in a Moscow airport, has submitted asylum applications to 21 countries.
5. Spain's soccer team: The Spanish Armada called. It wants its title of nation's greatest humiliation back.
Daily Beast editor Daniel Gross (@grossdm) on Brazil's 3-0 sinking of Spain.
6. Best news of the day is Serena Williams losing at Wimbledon. Now she can go back to her day job as a social commentator
New York Daily News sports reporter Frank Isola (@FisolaNYDN) alludes to the tennis star's recent controversial remarks about a notorious rape case in Ohio.
7. "It was one of the greatest matches that I've ever been a part of." -- Novak Djokovic, saying something he now says about four times a year
On the other hand, perpetual tennis nice guy Djokovic's patter is wearing thin to Wesley Morris (@Wesley_Morris), a critic for sports website Grantland.
8. 65 years ago today Britain's national health service went into effect and they were never again free and have no liberty at all.
On the day after American Independence day, internet humourist pourmecoffee (@pourmecoffee) takes stock of what the NHS has wrought on the United Kingdom - and what the US has managed to avoid.
9. The #swiftboat saga, the regrettable windsurfing images, the yacht tax avoidance flap. Controversy: where John Kerry & water meet.
NBC News correspondent John Baiata (@JBaiata). The same yacht that landed Secretary of State John Kerry in trouble last year - he docked it outside of his home state to avoid taxes - is back in the news again. State department officials first denied, then admitted that Kerry was on his yacht during some of the political upheaval in Egypt.
10. Shouldn't Petraeus be paying CUNY for its help in advancing his post-scandal rehabilitation?
New York Times political reporter Nick Confessore (@nickconfessore). The former head of the CIA, who resigned after his sexual infidelities came to light, will make $150,000 for teaching a course at the City University of New York (CUNY).
Some tweets have been edited for clarity and style.