Paper Monitor: Big Brother mania?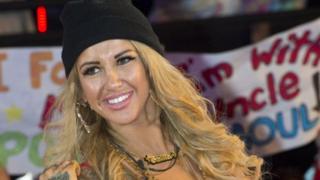 Paper Monitor wouldn't normally spend too much time on the front pages of the Daily Star.
But a BBC colleague's tweet -"16 (?) front-page stories in a row for Daily Star/Big Brother. Has any paper ever had the same story so often? After Sept 11? MPs expenses?" - was crying out for an investigation (of sorts).
Here are Paper Monitor's findings.
The Daily Star does indeed love/hate Big Brother.
With the exception of a couple of Sundays (isn't the Daily Star Sunday technically another paper anyway?), the last time another subject was on the front page was Monday 10 June.
That is 21 days ago.
For those that can't possibly imagine what Big Brother stories could have held the front page for so long, here's the abridged version.
Firstly, there's "secret" revelations. Six days worth of secrets, to be precise.
There there's the "shocks". There's three of them, apparently.
Of course, "sex" was always going to come into the equation. That crops up five times. There are two "romps".
Then there's a few other common headline-grabbing allegations, covering race rows, fakes, fixes, bullying and drugs.
For those that want a more in-depth look:
Sunday 30 June: Jessie's on-set collapse drama
Saturday 29 June: My secret Big Bro lesbian romp
Friday 28 June: BB secret sex romp shock
Thursday 27 June: BB bully cop to be axed
Wednesday 26 June: Savile cops set to raid B Bro house
Tuesday 25 June: Big bruv Gina biggest fake ever
Monday 24 June: Big bro Savile cop reveals sex secrets
Sunday 23 June: I'm happy to be most hated woman
Saturday 22 June: Big Bro Big Fix!
Friday 21 June: Big Bro star is secret actress
Thursday 20 June: Big Bro Star's secret drug shame
Wednesday 19 June: BB race hell destroyed my Jade... now it's happening all over again
Tuesday 18 June: BB shock new race row
Monday 17 June: Tulisa sex secrets exposed on Big Brother
Sunday 16 June: Our boys sent to Syrian border
Saturday 15 June: Fury at BB cop who nicked TV Jim
Friday 14 June: Why I quit Savile probe for BB
Thursday 13 June: Savile sex case cop in BB house
Wednesday 12 June: Tulisa's big bro sex & drugs shock
Tuesday 11 June: Big bro Rylan is hate mob target
Monday 10 June: Cowell: I could have been shot
"FYI" as they say, the Daily Star is owned by Richard Desmond's Northern and Shell. Guess who owns Big Brother broadcaster Channel 5?
Go on, guess.