What makes Jane Austen the ideal banknote candidate?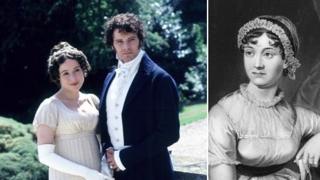 Twenty-four hours after Jane Austen is tipped as the next famous woman on a Bank of England note, Sir Mervyn King says it could indeed be her.
When Charles Darwin disappears off the back of the Bank of England's £10 note, Jane Austen is a candidate to replace him. It's exactly what was speculated yesterday.
Austen is likely to make a popular choice, but how might she have won over the Bank of England?
It's the bicentenary of Pride and Prejudice, arguably her best-known novel, so getting her on a note by the end of the year would be rather appropriate.
But in a wider sense, the last two decades have been boom years for Austen acclaim.
The television adaptation of Pride and Prejudice kicked the current wave of popularity off in 1995, driving many to reread the books. The same year saw both the Ang Lee-directed, Emma Thompson-starring version of Sense and Sensibility and teen film Clueless, which was loosely based on Emma.
Gwyneth Paltrow starred in a more faithful filming of Emma the next year.
Austen has been a near-permanent fixture in popular culture ever since.
"Since the 1990s Jane Austen has had huge cultural currency. She is a popular and a serious novelist. The Bank of Scotland issues notes bearing the face of another great novelist, Walter Scott, Jane Austen's contemporary," says Kathryn Sutherland, professor of English at Oxford University.
Novelists represent social and moral values that are an important part of what make us human, suggests Sutherland. They are worth celebrating alongside the achievements of political figures or scientists.
"Jane Austen is a great ambassador for Englishness - English humour, English politeness, English reserve."
This year the Pride and Prejudice bicentenary has even been marked with the naming of a rose and in February the Royal Mail issued a set of stamps to mark the occasion.
But if Austen is the next famous woman on to a Bank of England note, it will not delight everyone. She faced stiff competition for the role from scientists and social campaigners - and the question of whether an author should trump a suffragette is bound to trigger a debate.
Austen freely admitted that she wrote for money, seeing it as a marker of esteem. She thought it better that her books were bought instead of borrowed.
Caroline Criado-Perez, who championed a campaign to ensure a woman would continue to feature on the notes has mixed feelings about the choice.
"On the one hand she's a safe choice, and a very obvious choice for the bank," she says.
"But personally I love her writing - she's a very subversive character. I think they picked they thought was safe and quiet, but in her books she was actually laughing at the establishment."
Hundreds of readers emailed, tweeted or Facebooked their suggestions following yesterday's piece.
There was considerable backing for Mary Seacole, computer programming pioneer Ada Lovelace and biophysicist Rosalind Franklin, who contributed to the discovery of DNA.
But here are 10 reader suggestions that were not included in yesterday's list of potentials:
Nomination: Edith Cavell
Citation: Treated both German and Allied soldiers in occupied Belgium. Shot by Germans for "treason" for her role in smuggling Allied soldiers out of the country
"Surely another great Norfolk woman should appear on a note. Edith Cavell a nurse who was shot by the Germans in World War I for saving British soldiers. A humanitarian, compassionate nurse who tended the wounds and eased the suffering of our men in war. What a truly brave person, who better to epitomise the sacrifice and contribution of our women standing shoulder to shoulder with our men in war? David Brown, Oxford
Nomination: Agatha Christie
Citation: Arguably the world's most famous crime writer
"One suggestion from the world of literature, a famous woman author - why not Agatha Christie? Enduringly popular and her books have sold millions." John Shaw, Skegness
Nomination: Barbara Hepworth
Citation: English sculptor who helped to develop modern art in Britain
"One of the greatest artists of the 20th century." Simon Wallis, Wakefield
Nomination: Jemima Nicholas
Citation: Welsh heroine during the Battle of Fishguard
"My vote goes to Jemima Nicholas who in 1797 rounded up 12 invading Frenchmen at Fishguard, locked them up and then went back to find more. She was also known as Jemima Fawr (Jemima the Great)." Joanna Waring, Cardiff
Nomination: Ellen Wilkinson
Citation: One of the first women in Britain to be elected as a Member of Parliament
"Her political career was marked with many successes, even if she was felt to be a bit of a thorn in the side of the establishment at times. She was the first female to hold the post of minister of education and it was in this role that she lobbied for the school leaving age to be raised. Initially she wanted the age to be raised to 16, however this was deemed too expensive and it was instead raised to 15 as a compromise." Harrison Fuller, Pinchbeck
Nomination: Elizabeth Garrett Anderson
Citation: The first Englishwoman to qualify as a physician and surgeon in Britain
"I would strongly support as a candidate to appear on a British banknote, Elizabeth Garrett Anderson, England's first female doctor. She had a real struggle to be allowed to study and was clearly a trailblazer for so many who have come after her." Benjamin Flenley, Alton
Nomination: Grace Darling
Citation: Made famous for the part she played in the rescue of survivors from the shipwrecked Forfarshire in 1838
"I think most kids learn about her in school. A truly selfless act in days when women were thought of as delicate creatures." Tracey Biggs, Maidstone
Nomination: Dorothy Mary Hodgkin
Citation: Chemist credited with the development of protein crystallography
"A key person in the field of crystallography - Dorothy Mary Hodgkin, OM, FRS (and Nobel Prize winner) - a scientist that is rarely remembered, but was the first to uncover the structure of insulin and vitamin B12. She should definitely be a contender (especially as she arguably contributed more to biomedicine than Rosalind Franklin)." Dr Rob Francis, Guildford, Surrey
Nomination: Victoria Alexandrina Drummond
Citation: First female marine engineer in Britain
"I would nominate Victoria Alexandrina Drummond MBE (1894-1978), the first woman marine engineer in Britain." Mick Mahone, Aberdeen
Nomination: Violette Szabo
Citation: French-British secret agent
"She was executed in WWII. For her courage as a secret agent she was given the George Cross and MBE. She was born of an English father and a French mother and married a Frenchman, they had one daughter. Her story was told on the film Carve Her Name with Pride." Monica Cunnigham, Meopham