Paper Monitor: Knocking up some copy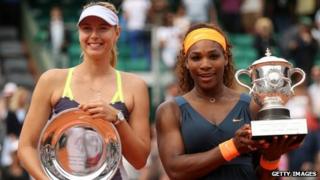 The papers like to limber up for Wimbledon fortnight by knocking up as many puns as they can think of.
Today it's Serena Williams v Maria Sharapova in the Court of Public Opinion.
"Serena and Maria start Wimbledon at deuce after a volley of insults" is the Daily Telegraph headline.
The war of words has been escalating since Williams gave an interview to Rolling Stone in which she dissed an unnamed star every man and his dog concluded to be her Russian nemesis. "'She begins every interview with 'I'm so happy. I'm so lucky.' It's so boring," the American said.
Then she really twisted the knife. "And, hey, if she wants to be with the guy with a black heart, go for it."
This man with something of the night about him is Bulgarian player Grigor Dimitrov, whom Sharapova has been dating since her split from basketball player Sasha Vujacic.
In case we're not getting the full picture, the Telegraph writer takes up his purple quill. "Close your eyes and you could almost picture the formidable Serena brandishing her designer handbag at 10 paces, ready to plunge her painted nails into the honeyed siren from Siberia."
But Sharapova hit back with her own vicious backhand aimed straight at the opponent's body. "If she wants to talk about something personal, maybe she should talk about her coach who was married, who is getting a divorce and has kids."
It's all too much for the Daily Mail. "Claws out! Serena v Maria in…The Great Wimbledon Cat-fight. See pages 2-3".
Williams now claims she said sorry last week and that the apology was accepted by Sharapova. "Serena: I said sorry to Maria over jibes then she slams me" the Daily Mirror headline runs.
The paper notes that Williams had to apologise for another comment she made in the Rolling Stone piece. She had said a young woman who had been sexually assaulted "should not have put herself in that position". Erm, perhaps it's time for a period of serene silence.
Finally, the Daily Star has its eyes on other "tennis" stories. It has re-enacted the famous Athena poster of the woman tennis player scratching her bottom.
Only this time it's got Pippa Middleton in "that cheeky pose".
Really? Erm, no, not really. "Before you drop your bowl of strawberries and cream, this is actually a Pippa lookalike in a series of racy pics by famed 'Doubletakes' snapper Alison Jackson."
On the facing page is a story that Andy Murray's Wimbedon could be ruined by doggers.
Actual tennis can't come soon enough it seems.