Caption Challenge: Forty winks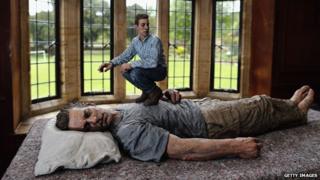 Winning entries in the Caption Challenge.
This week, an installation entitled Lying Man by British Artist Sean Henry awaits to be installed in the grounds of Glyndebourne Opera House.
Thanks to all who entered. The traditional prize of a small amount of kudos to the following:
6. David Nixon:
Critics divided over darker, more adult Little & Large reboot.
5. Reeve Burgess:
Ah, there you are, Darling. I've got someone I want to get off my chest...
4. Darryl:
If Eric Cantona did CPR.
3. Rob Falconer:
Harry's doctor had a shock when he visited the surgery about "his little man".
2. Dry Boak:
Honey I shrunk my id.
1. Wiganher:
He ain't heavy, he's my other.
Full rules can be seen here
[16KB]