Paper Monitor: Angelina Jolie's breasts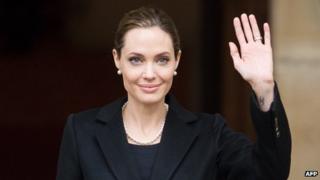 How best to summarise Angelina Jolie's clear-eyed article in the New York Times explaining why she's had a preventative double mastectomy?
It could be summarised thus:
I'm at high risk of breast cancer
I don't want to die young like my mother did
I don't want my children to fear they will lose me
I want other women to get tested, and to know that losing your breasts does not make you any less of a woman
Oh, and thanks Brad for your love and support.
But if you are the Sun, it could be summarised like this on its front page:
"ANGELINA: Mastectomy has made me closer to Brad."
Or the Daily Mail:
"A double mastectomy - now Angelina can't wait to marry Brad."
Funny. Paper Monitor doesn't recall her mentioning a wedding.
The paper says: "Those close to Jolie say that she will marry Brad there, an event which will take place 'sooner rather than later', possibly in six weeks' time. She also looks set to crown their happiness by adopting a fourth and final child."
Oh. Friends.
Perhaps these are the same friends who help fuel the "eternal hoo-hah over the Aniston-Pitt-Jolie triangle that, one suspects, has fascinated the tabloids far longer than it has the participants", as Hadley Freeman puts it in the Guardian.
"Yet Jolie herself has always maintained the kind of personal privacy that now only the most A-list of actresses can afford."
It is also instructive to see the photos the different papers choose to illustrate the story.
The Mail opts for a dress-down photo taken in April - "after her double mastectomy, but before having implants", it notes, should readers wish to compare and contrast.
The Independent opts for a besuited Jolie at last month's G8 foreign ministers' meeting in London - similar to the photo on this page.
And the Daily Telegraph for a head-and-shoulders portrait of Jolie in a demure cream satin blouse. Well, they would, wouldn't they.
The Sun whips out a still of Jolie in a skin-tight wetsuit from the Lara Croft film. Well, they would, wouldn't they.
And the Guardian gets the word "empowered" onto its front page.
Well, they would, wouldn't they.