Caption Challenge: Norse code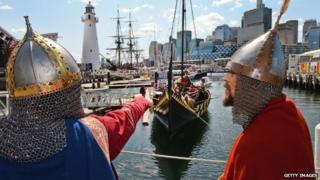 Winning entries in the Caption Challenge.
The Caption Challenge has now closed.
This week, Viking re-enactors row a replica longboat into into Darling Harbour, Sydney.
Thanks to all who entered. The prize of a small amount of kudos to the following:
6. Ken Petersen via Facebook:
The management apologise for the late arrival of this Sealink ferry service from Dieppe.
5. Flora Brecon:
Would we Aussies allow Vikings into Sydney Harbour? Nor'way!
4. SkarloeyLine:
The Aussies were about to regret boasting they could thrash the Barbarians.
3. Steve Watts:
If we're going to compete with the Royal Mail when it's privatised, we'll need something a bit faster.
2. CindyAccidentally:
They're a cert for the double skulls.
1. Lin Vegas:
No, no horns - they're in the quiet carriage.
Full rules can be seen here
[16KB]
Follow @BBCNewsMagazine on Twitter and on Facebook