Migrant crisis: Has EU found solution for flawed asylum rule?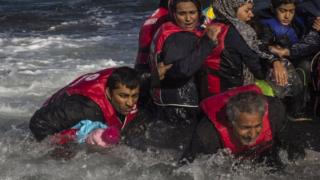 Since the start of the migration crisis, the flaws in the EU's asylum policy have been exposed and heavily criticised.
The problem has been a mechanism known as the Dublin Regulation, which dictates that refugees seek asylum in the first EU country they enter.
It allows countries to deport asylum seekers back to their first entry point to be dealt with, but this has left countries like Greece and Italy dealing with the majority of cases, with their governments campaigning for "Dublin" to be scrapped, or radically reformed.
So, European Commission officials on Wednesday came up with a reformed system, nicknamed "Dublin Plus".
It would involve emergency mechanisms whereby EU states would help relocate refugees between them, if one country was deemed to be struggling to cope.
A similar relocation system was launched before.
Member states agreed to share voluntarily the relocation of 160,000 refugees from Greece and Italy. But that has barely functioned - less than 1% of refugees have been relocated that way.
Dire consequences
Dublin Plus would make the system mandatory. Governments refusing to take part would be financially penalised.
One EU diplomat put it like this: "Countries should accept their share of refugees at times of emergency, or pay a heavy price to ensure their upkeep elsewhere."
The fine, or, "solidarity contribution" would be €250,000 (£200,000; $290,000) for each asylum seeker that governments refused to take. The money would be used to fund the refugee elsewhere.
Hungary's foreign minister accused the Commission of blackmail. Slovakia, Poland and Czech officials described the changes as unrealistic and are expected to oppose them.
Despite the opposition, EU Commission officials say they're "fairly confident" that the reformed system will be voted through by a majority of member states, with Germany and France amongst those expected to vote for the reforms.
There is an expectation that several governments will call for a lower financial penalty.
The new plan won't apply to the UK, Ireland or Denmark which have opt-out clauses, though all three would still be able to deport asylum seekers under the Dublin principle.
The migrant flow has reduced significantly since the EU deal with Turkey in March, but the European Commission sees this reform as fundamental to the EU's long-term migration strategy.
"Don't turn your back on the problems of your neighbours," Commission Vice-President Frans Timmermans urged EU leaders.
And he warned of dire consequences for the European project if they failed to show solidarity.