German leader Seehofer's Putin visit stokes outcry in Berlin
By Damien McGuinness
BBC News, Berlin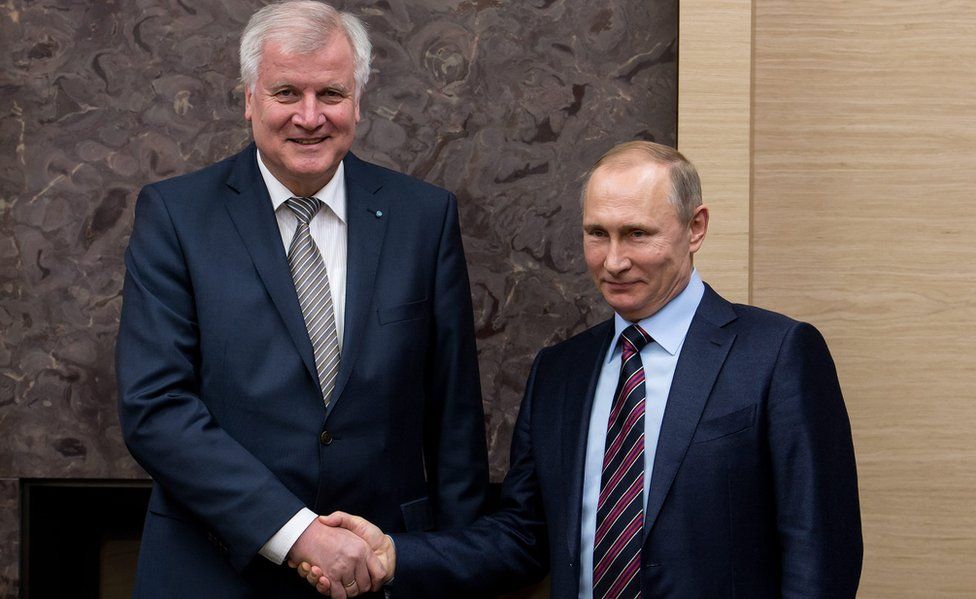 One of German Chancellor Angela Merkel's key political allies has ruffled feathers at home by meeting Russian President Vladimir Putin at his residence in Moscow.
Amid fears that the Russian leader is seeking to destabilise the European Union, the visit of Bavarian Premier Horst Seehofer, known for his hardline stance on refugees and international sanctions, could do more to undermine rather than boost the Berlin government.
In the usually calm and consensual world of German politics, Mr Seehofer is something of a Donald Trump figure: loved by supporters as a no-holds-barred straight-talker; loathed by critics, who see him as an attention-seeking populist.
He is the leader of Angela Merkel's Bavarian allies in government, the conservative Christian Social Union (CSU). In theory, that means supporting Chancellor Merkel.
In reality though, his role is also to clash with the chancellor, in particular by talking tough on refugees.
The majority of migrants and refugees arriving in Germany in the past year have come through Bavaria, and Mr Seehofer has urged Mrs Merkel to:
Toughen border controls
Place a cap on the number of asylum seekers
Turn back refugees who have come to Germany from other "safe" countries
His aim is to stop conservative voters drifting to more populist parties by proving that Mrs Merkel's increasingly centrist bloc is still in touch with traditional right-wing values.
But for many German politicians, Mr Seehofer's two-day Russian visit is a clash too far. One news website said the visit was a scandal while German TV asked if it was even allowed.
Mr Seehofer has repeatedly criticised Chancellor Merkel's determination to keep in place EU sanctions - imposed on Russian individuals and companies over the conflict in eastern Ukraine - until Moscow implements the peace roadmap known as the Minsk agreement.
Meeting the Russian leader on Wednesday evening, he said he hoped to bring some "confidence and normality" to a difficult political climate.
His visit is being cheered on by German business leaders who are keen to get back down to trading, particularly since eastern Ukraine looks set to become just another post-Soviet frozen conflict which the international community decides to leave unresolved.
President Putin may see a chance to exploit this division, in the hope of putting pressure on Mrs Merkel to ease sanctions.
But there are fears in Berlin that the Kremlin is also trying to sow dissent not just within Germany's government, but also within its population.
The refugee crisis has provided the ideal opportunity.
Earlier this month Russian state-backed television claimed a 13-year-old girl from a Russian-immigrant family in Berlin had been abducted and raped by migrants.
The reports sparked anti-government protests among Russian Germans in several German cities.
Russian Foreign Minister Sergey Lavrov accused the German authorities of a cover-up to protect asylum seekers, an explosive allegation weeks after the sexual assaults of hundreds of women on New Year's Eve in Cologne.
The girl has since admitted that the story was made up. Police have evidence that no abuse was carried out and that in fact she had been staying with a friend.
But, as with eastern Ukraine, Russia's media coverage was not necessarily focused on unearthing the truth.
The suspicion is that it may have been aimed at spreading confusion, doubt and cynicism, even though Kremlin spokesman Dmitry Peskov insisted that it was acting like any other country that "cares for its nationals".
The feeling among several commentators in Germany is that even if few believed the Russian version of events, the aim of the Russian reports was that people stopped believing the German authorities and media too.