Bowie: Berliners say goodbye to adopted son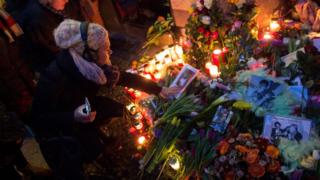 "His music is part of the city," said one woman. "He is Berlin."
The Wall was up. The Cold War was on. It was 1976. And Bowie moved to the walled-in city of West Berlin to share an apartment with Iggy Pop at number 155 Hauptstrasse — in what is generally regarded as the coolest flat-share in musical history.
Berliners today regard Bowie as an adopted son. "He's one of us," said Berlin Mayor Michael Mueller on hearing the news of the singer's death.
That's because the three years that David Bowie spent here were crucial to his musical development.
That was a pivotal moment when he got away from the drugs and distractions of celebrity, shook off the glam make-up and Ziggy Stardust wigs, and dived into the dirty, gloomy ruins of Berlin - crumbling buildings still pockmarked with shrapnel from World War Two.
Berlin is a traditionally bolshie city, with no regard for celebrity. So people didn't care who Bowie was - and if they did, certainly wouldn't show it. This gave Bowie the freedom to go shopping, go clubbing and most importantly to work and reach a whole new level of creativity.
He would make the three records that many regard as his best - the Berlin Trilogy of Low, Heroes and Lodger - recorded at the now legendary Hansa Studios in Kreuzberg, right beside the Berlin Wall.
For music fans this is a place of pilgrimage. And it was here that he recorded the song Heroes, the story of two lovers at the Wall which tore the city in two, and which has since become Berlin's unofficial anthem - symbolising the city's yearning for unity and freedom.
---
Bowie's Heroes (excerpt)
I can remember standing by the wall
And the guns shot above our heads and we kissed as though nothing could fall.
And the shame was on the other side
Oh we can beat them, for ever and ever
Then we could be Heroes, just for one day
---
In 1987 Bowie came back to divided Berlin where he gave a concert to 70,000 people on the Western side of the Wall.
He read out a message in German, saying: "We send our best wishes to all our friends who are on the other side of the Wall."
Then he sang Heroes. Hundreds of young East Germans straining to listen, started shouting "the Wall must go", and rushed towards the forbidden no-man's-land. This sparked a riot which was crushed by East German police.
Two years later the Wall came down.
It was at the nearby Hansa studios that I met up with British music expert and producer Mark Reeder, who moved to Berlin in 1978 while Bowie was still living here.
"Bowie put Berlin on the musical map," he said.
"Until that point Berlin was just this political backwater. People didn't know anything about Berlin back in the 1970s. And then David Bowie came here. He inspired me to come to Berlin and have a look at what was going on."
And he's still inspiring young creatives today. Berlin bars are packed with moody-looking musicians from all over the world doing their "Bowie-Berlin-years."
David Bowie helped create the Berlin myth. And Berlin helped create David Bowie. "That's why this city in tears," according to Mark Reeder.
As they laid down flowers and lit candles on the doorstep of the building where David Bowie once lived, Berliners said they were in shock.
David Bowie in numbers
In a career spanning 51 years
£135m
estimated net worth*
140 million albums sold since his first release in 1967

111 singles - averaging more than two a year during his career

51 music videos, along with a number of film roles including The Man Who Fell to Earth and Labyrinth

25 studio albums, including Blackstar, which was released two days before his death
Getty