Turkey EU: Merkel visit a gift to Erdogan but little more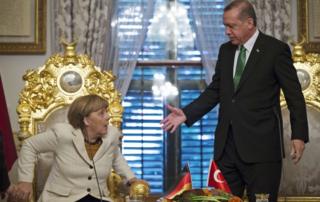 If Angela Merkel chose Istanbul for her visit to avoid President Recep Tayyip Erdogan's controversially ostentatious palace in Ankara, she'd have been disappointed by the alternative.
The photos from her meeting here show the two leaders perched on opulent, gilded chairs, surrounded by gold. All of this as they discussed the plight of desperate refugees.
Social media comments came thick and fast: the Queen of Europe and the Sultan of Turkey on their thrones. the German chancellor's pained smile speaks volumes.
Pre-election boost
For President Erdogan, a lavish welcome was a way of showing off this visit in all its glory.
Exactly two weeks before an election in which he hopes his AK Party will regain the governing majority that it lost in June, Mrs Merkel's stopover was a gift.
Accused by critics of leading Turkey into international isolation, presiding over a sharp decline in human rights and the rule of law and resuming a conflict with the PKK Kurdish militants so as to win back nationalist votes, Mr Erdogan needed a pre-election boost.
And it came in the form of Europe's most influential leader.
She showered Turkey with promises:
Financial aid
Speeding-up the process by which Turks can travel to most EU countries without visas
Support for opening new chapters in the country's EU accession bid.
And she praised Turkey for hosting two million Syrian refugees. In return, Turkey will be expected to police Europe's borders more effectively, improve conditions for the refugees back home and impose restrictions on some nationals entering Turkey so freely.
---
Brand Merkel comes under pressure over migrants
Can EU action plan on Turkey match its words?
Syrians struggle in Turkey in search for "normal life"
The pull of Europe - five migrant stories
---
After President Erdogan was welcomed in Brussels last week by the EU's top officials, followed by a visit to Turkey by the European Commission's Vice President Frans Timmermans, Mrs Merkel's trip was the crowning glory.
It's realpolitik in the original German sense of the word. Europe is courting Mr Erdogan quite simply because the EU needs Turkey now perhaps more than ever.
It will, no doubt, play to Turkish national pride in a country that thrives on self-importance.
And any promise that Turkey's EU accession might be re-energised will feed into the government's pre-election strategy.
'Privileged partner'
Joining the bloc is, in the words of Turkey's foreign minister, the country's "main foreign policy objective".
But is there any substance beneath the words?
Turkey's accession process has virtually stalled. It doesn't recognise the borders of one EU member - Cyprus - and the sharp decline in freedom of expression here makes any opening of human rights or justice chapters inconceivable.
Turkey ranks 149 out of 180 countries in the press freedom index of watchdog Reporters Without Borders. And Chancellor Merkel herself has frequently stated that she doesn't believe Turkey should become a full member of the EU but rather a "privileged partner".
For a party hoping to shore up its core nationalist, Islamist-oriented support, a glorious visit by the German chancellor two weeks before an election with grandiose promises and praise plays out perfectly.
But for the opposition here, and for Western governments deeply worried about the state of Turkish democracy, this was simply about arm-twisting on the refugee crisis - and Turkey's snail-paced shuffle towards the EU won't become a quick march any time soon.