Portugal vote: Coalition hopes to survive austerity anger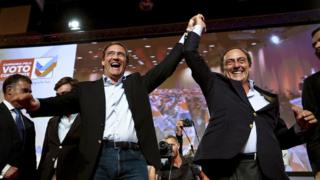 Portugal's right-of-centre governing coalition has been polling a few points ahead of the Socialist Party in the run-up to Sunday's general election.
Some observers wonder how a government that has implemented painful spending cuts and tax rises, with what looked at times like enthusiasm, could be on the verge of winning this election.
The Socialist leader, Antonio Costa, is under huge pressure to convince those leaning towards smaller leftist groups that only a vote for his party is a "useful vote" against austerity.
Polls point to such groups picking up significantly more votes than in the last general election, amid anger at public sector pay cuts, unprecedented tax increases, and the emigration of hundreds of thousands of mainly young Portuguese.
Meanwhile, the two parties in the governing coalition look set to lose up to one in four of the votes that they gleaned in 2011, soon after the then Socialist government was forced to seek a eurozone bailout.
Bumpy recovery
In a move aimed at limiting the impact of these losses in terms of parliamentary seats, the centre-right Social Democratic Party of Prime Minister Pedro Passos Coelho, and its right-wing ally, the People's Party, have put up joint lists of candidates in all electoral districts.
Unemployment has been falling slowly but steadily for two and a half years, as part of a bumpy economic recovery.
That has helped staunch the loss of support for the government, at a time when Greece's experiment with anti-austerity politics seemed not to end well.
Portugal economy figures
12%
of the workforce is unemployed
20%
of people live below the poverty line
485,000 emigrated from Portugal between 2011 and 2014

125% debt to GDP - the second highest rate in the European Union
AP
This week saw the International Monetary Fund close its permanent representation here, after four years.
But international lenders continue to monitor Portugal's performance until the bulk of its bailout loans are paid off.
And despite Socialist pledges to boost the economy, for example with a temporary cut in workers' social security contributions, few believe austerity is over.
Big questions
Against that backdrop, voter turnout - which has fallen sharply since democracy was restored after Portugal's 1974 revolution - is expected to be at or near a record low.
Surveys show one fifth of the electorate as undecided. In a country where party allegiances tend to be firm, many of these are not 'floating voters' in the sense used in the UK, but people who may not vote at all.
One of the big questions now is what will happen if - as looks likely - no political force secures a majority in Portugal's 230-seat parliament.
President Anibal Cavaco Silva, who must decide which party leader to ask to form a government, said this week that "I know very well what to do after the results emerge".
But he declined even to hint at what that was.