Pressure grows for gay marriage in Germany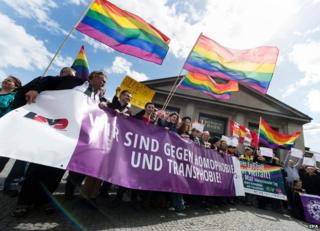 The day after Ireland voted to legalise gay marriage almost every German newspaper cover displayed a rainbow.
"It's time Mrs Merkel" exclaimed the Green party leader Katrin Goering-Eckhart in one interview. "The Merkel faction cannot just sit out the debate on marriage for everyone."
Pressure is growing on the government here to follow Ireland's example. Germany has allowed civil partnerships since 2001. And just days after the 22 May Irish referendum they agreed to change the law, to give more equal rights to homosexual couples in such partnerships.
That means they'll have the same tax status and adoption rights as married couples. As Chancellor Angela Merkel's spokesman put it, this was "an important milestone in dismantling discrimination and the chancellor is pleased about that". But, Steffen Seibert added, "same-sex marriages are not a goal of this government".
Why not? Two years ago a survey for the news magazine Stern revealed 74% of Germans supported gay marriage. Mrs Merkel's coalition partners, the Social Democrats (SPD), are in favour. So are the Greens.
And in 2013 Stern also surveyed her conservative Christian Democrats (CDU) on the issue. Two-thirds of them were in favour.
'Lagging behind'
No-one's really sure what Angela Merkel's personal views are. She admitted in 2013 she had a "hard time" with the issue. That was the year that her CDU and their SPD coalition partners decided against introducing gay marriage during their five-year term in government.
Commentators point to the balance which the chancellor must strike between the personalities within her party (and its more conservative sister party in Bavaria - the CSU), who like to emphasise the Christian family values for which the CDU traditionally stands (and who already complain that she's taken the party too far to the centre), with a younger, modernising contingent.
Take the CDU MP Erika Steinbach, who is a regular talk show guest on the subject. "Marriage," she has said, "enjoys particular legal protection because this is the only kind of relationship in which children are born".
And compare her to her fellow CDU MP Christian Roebcke-Gronau, who chairs the lesbian and gay association within the party. In a recent newspaper article he expressed his frustration. Germany had taken the lead on equality, he said, "but now all the other countries have overtaken us and the main obstacle is within our own party".
It's two years before Germans go to the polls in a national election. It seems unlikely that much will change over gay marriage before then.
For now, in the eyes of many, Germany lags behind too many other European countries on this issue.
Jens Spahn is a young but high-profile CDU member and one of its first openly gay politicians.
He appeared to speak for many when he told a newspaper: "If a Catholic country like Ireland can do it then so can we."