Poland-Russia row sours Auschwitz commemoration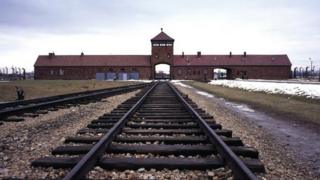 A political row has erupted between Poland and Russia ahead of a ceremony marking 70 years since the liberation of Auschwitz death camp.
This will be the last big anniversary in which the remaining elderly survivors will be able to come and pay their respects at the camp.
It was where, in occupied Poland between 1940-45, Nazi Germany murdered one million men, women and children simply for being Jews.
Russian President Vladimir Putin attended the last big anniversary 10 years ago, as representative of the largest country that emerged from the collapse of the Soviet Union. Soviet soldiers liberated the camp on 27 January, 1945.
But Russia's annexation of Crimea and its support for separatist rebels fighting in eastern Ukraine put the ceremony's organisers, the Auschwitz Council, in a difficult position.
Poland has been one of the sharpest critics of Russia's intervention in Ukraine.
"The Poles were explicitly not thrilled about the prospect of Putin coming," Konstanty Gebert, columnist for the leading daily Gazeta Wyborcza told the BBC.
Ukrainians credited
The Council decided to send an open invitation to embassies, rather than to individual heads of state and government.
"Had the Russians said 'well our president is coming' that would be it, Putin would be at Auschwitz. But Putin chose to be offended at not having been specifically invited, as I assume the Poles knew he would be, therefore avoiding an embarrassing situation," Mr Gebert said.
"It would have been incongruous to have Putin in Auschwitz with his recent track record. In general the presence of Russia at Auschwitz ceremonies is not only indispensable but also highly desirable, and it needs to be placed within the historical context both then and now," he added.
Russia, like most invited nations, is sending a lower-ranked official and will be represented by the Kremlin's chief of staff, Sergei Ivanov.
This unusual diplomacy deteriorated into a public spat when a Polish radio station asked the country's foreign minister, Grzegorz Schetyna whether it was petty not to invite Mr Putin.
He decided to answer by crediting the Ukrainians for liberating Auschwitz, rather than the Soviet Union's Red Army.
'Anti-Russia hysteria'
Moscow was incensed, saying it was time to stop "ridiculing history" and engaging in "anti-Russia hysteria". Foreign Minister Sergei Lavrov said Mr Schetyna's comments were "blasphemous and cynical".
He pointed out Auschwitz was liberated by a Red Army consisting of Russians, Ukrainians, Chechens, Georgians and Tatars.
Auschwitz was liberated by the Red Army's First Ukrainian Front, which certainly included both Ukrainians and Russians. Maj Anatoly Shapiro, a Ukrainian Jew, led the battalion that fought its way into the camp.
On Friday Mr Schetyna insisted he was right because, as he said, it was "obvious" that a multi-ethnic Red Army liberated Auschwitz, but it had in fact been a Ukrainian officer, Igor Pobirchenko, whose tank was the first to break through the camp's gates.
For many this political bickering is unseemly.
"The bottom line is, this is really about remembering the past, much more than about debating the present, let alone the future, and it really should be about the survivors and not about present-day politicians," Mr Gebert said.
"If the spotlight gets removed from this or that president, it might just accidentally fall on some of the incredibly brave men who are still alive today and survived the hell Nazi Germany had created there," he added.