Clean air and recycling laws at risk in EU
By Roger Harrabin
BBC environment analyst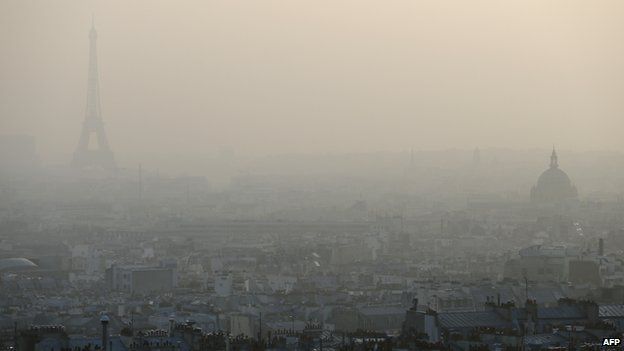 The EU may scrap plans for legislation on air pollution and waste in a drive to boost the economy, according to a leaked document seen by BBC News.
In its draft workplan, the European Commission says the priorities are creating jobs, reducing public debt and increasing industrial competitiveness.
It says citizens do not want Europe interfering in issues that can be solved nationally.
Environmentalists are appalled, saying green issues require EU-level action.
Dirty air is the prime environmental cause of premature death in Europe and the current air quality legislation seeks to establish a national emissions ceiling directive for six toxic pollutants.
Eleven governments have written to the Commission President Jean-Claude Juncker, urging him to keep the directive on track. And the Commission's plans for a substantial revision of the legislation will be opposed next week by some MEPs.
But the fate of the legislative plan to recycle 70% of municipal waste and 80% of packaging by 2030 is more uncertain.
The UK waste industry says the nation would still be sending all its waste to landfill if the EU had not stepped into a "policy vacuum". The previous Commission aspired to create a "circular economy" - a modern society in which people live in harmony with the Earth, creating jobs through clean technology and recycling materials.
But Mr Juncker has already signalled that he will not waste time on proposals that won't fly - and the Commission's workplan says member states cannot agree on the recycling ambitions.
Environmentalists are in a rearguard battle. They think Europe's relatively tight environmental standards have given manufacturers a global lead in efficient products. But the lobby group Business Europe has argued that overzealous rules are making firms uncompetitive on the global stage.
Already the EU is treading more gingerly in its climate change leadership, and the helm of the European Council has been taken by Donald Tusk, who championed coal while prime minister of Poland (and also won admiration for keeping Poland's economy afloat in the recession).
Industrialists have also been pushing for a relaxation of rules protecting wildlife areas from new development, and they have secured a review of the Birds and Habitats directives, to see if they are fit for purpose. That review will report its findings in 2016.
Green thinkers persuaded the previous European Commission to put sustainable development at the core of its ambition. It is clear that across Europe's green landscape the perspective has changed - how far remains to be seen.