Haggling ahead at EU budget talks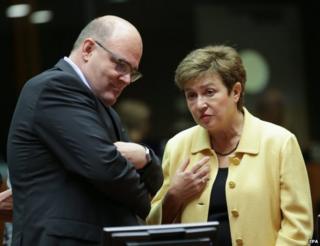 EU budget ministers are meeting today with quite a lot on their plate, and several clocks ticking.
There are outstanding bills from the 2014 budget to be paid, and a proposed budget for 2015 to be agreed.
Stand by for late-night haggling on all of that, and plenty of cross words between member states and the European Parliament.
There is an initial deadline of 17 November for agreeing the 2015 budget, but that is unlikely to be met.
If there's no agreement by the beginning of next year, the EU will have to rely on a monthly set of figures from the 2014 budget, rather than on a new annual plan.
There is a chance that that could happen, because MEPs are insisting that the outstanding payments from 2014 must be settled first, before any agreement on next year's budget.
Many of them are are not impressed with what they see as foot-dragging by ministers.
"This shows a lack of respect for EU citizens who are the final beneficiaries of the budget," said the budget committee chairman, Jean Arthuis.
The other issue budget ministers will discuss on Friday is the legislation that will allow payment of the now infamous adjusted national contributions to the EU budget to be delayed until next year.
Most of the focus of course has been on the huge bill of €2.1bn (£1.7bn; $2.6bn) presented to the UK, and on Chancellor George Osborne's subsequent claim that he has now cut that bill in half.
The European Commission, acting on a request from government ministers, has come up with a proposal that will mean any member states facing additional contributions must provide a binding schedule to pay in instalments between January and September next year.
That will replace the initial demand that any country owing money would have to pay the whole amount by 1 December, or face interest payments in addition to the extra bills.
Complicated
There's no real sign that the modified payment schedule won't be approved, but the numbers involved in the British calculation remain complicated at best.
EU officials insist that the amount the UK owes remains the same. "It hasn't changed, it hasn't been negotiated," said one senior official.
What has happened is that with payment delayed until next year, the money will be handed over in the same financial period as the one in which the budget rebate that the UK always gets is handed back.
The rebate on the €2.1bn seems bigger than usual because it covers several years of accounting revisions.
But it's still not clear whether the UK will have to make its payment before or after it receives this rebate.
In other words, it's still hard to say exactly how much money the UK will have to shell out next year.
Or to put it another way: clear as mud.