EU budget anger - UK is not alone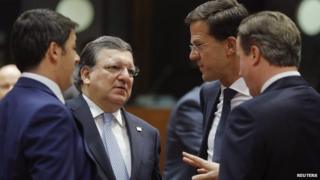 Aftershocks from the EU budget bombshell at the Brussels summit are still being felt - and the pain will linger for some time.
Several countries complained last week about being asked to come up with hefty top-up payments into the EU budget by the start of December.
Soon EU finance ministers will have to wrestle with the figures, amid huge pressure to cut the UK's 2.1bn-euro (£1.7bn) bill.
UK Prime Minister David Cameron is furious that the UK has been "clubbed with the lead piping in the library".
There isn't much time to reach a deal. The European Commission says the top-up payments are due by 1 December. But some countries, notably France and Germany, are awaiting an unexpected windfall from the budget on that date too.
The reactions of other EU leaders suggest that speculation about a Commission plot to embarrass Mr Cameron at the summit is far-fetched.
Bureaucratic bungling is a more likely explanation.
The demand for a hefty top-up payment surprised the Netherlands and Italy too, who are being asked to pay 643m euros and 340m, respectively.
Allies
Mr Cameron has a firm ally in Dutch Prime Minister Mark Rutte.
"I think we are in total agreement on this - that we need to get to the bottom of it," Mr Rutte said as the summit ended on Friday.
"The Commission has so far not been able to answer related questions. This whole issue is not getting clear for the six or seven countries involved," he said, referring to the biggest winners and losers in the budget adjustment.
Their Italian counterpart, Matteo Renzi, was equally scathing about the communications lapse between governments and the Commission.
"We only found out about Italy's extra money towards the EU budget last night," he said on Friday.
"These EU meetings are extremely complicated, and we have to be better equipped to sit at the European table."
He demanded "more transparency and clarity", saying "we don't come here to receive lectures and admonishments".
"When I say that bureaucracy risks destroying Europe, I say it because I think that this is the biggest risk for EU citizens."
The review of member states' contributions to the EU budget is an annual exercise, to take account of changes in countries' VAT (sales tax) receipts and national output (GDP) figures.
But what shocked many people this time was not only the size of the adjustments, but the fact that the review went right back to 1995.
A new accounting method, which includes black economy revenue - from prostitution and drugs, for example - helps to explain the bill shock. But it's only a partial explanation.
Germany's Chancellor Angela Merkel spoke cautiously and diplomatically about the issue - that is her style, but she is hardly upset, as Germany stands to gain 780m euros.
"One has to look at why the disparities come about and why the differences are so big.
"David Cameron didn't say he wasn't going to pay it at all - he was just concerned about the very short period he has to pay it in. So I'm confident a solution can be found," she said.