France defies Brussels over 2015 budget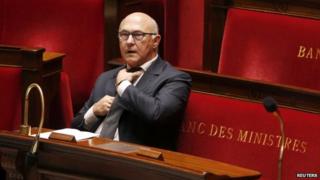 France submits its annual budget to Brussels on Wednesday, disregarding calls from EU officials to introduce more cuts.
With left-wing MPs deeply unhappy over austerity, President Francois Hollande's government looks set not only for a rebuttal from the EU but for a rebellion in the National Assembly in Paris as well.
Whatever hopes the officials in Brussels had of softening the French stance, these have been dashed.
No, France will not review its annual budget for 2015.
"The European Commission doesn't have the power to 'reject' or 'censure' the budget," Finance Minister Michel Sapin said earlier this week. "Here, sovereignty belongs to the parliament."
Under EU rules, the Commission has the power to oversee a member state's budget and can take legal action, recommending changes and targets if it does not stick to fiscal discipline.
But Mr Sapin's defiant words echoed those of Prime Minister Manuel Valls, who said France was "a big country that should be respected". In other words, nothing will persuade France to change its plans.
Earlier this month France put forward an annual budget that included 21bn euros (£17bn; $27bn) of cuts - but admitted it would miss its EU deficit target of 3% of GDP for the third time.
Worst-case scenario
EU officials are now coaxing France into cutting its budget deficit - the gap between spending and revenue.
Instead France expects its deficit to reach 4.3% of output in 2015.
"Figures we are hearing from Paris are not very hopeful. There are certainly concerns there," said Eurogroup President Jeroen Dijsselbloem.
But France complains EU officials are failing to take into account the economic crisis and, in particular, the risk of deflation.
Mr Hollande's government knows it is setting itself up for a clash with Brussels.
And the French press are speculating on what shape that rejection will take. The worst-case scenario: that the EU Commission could slap a fine of up to 4bn euros, 0.2% of the country's GDP.
But that is an option that everyone knows would play into the hands of the far right.
The Commission could settle for a negative recommendation on the French budget. However, that would undermine the credibility of the EU's new budget powers.
Mr Sapin on Tuesday offered an olive branch, and said his team would work to reach a compromise on reducing deficits with Brussels.
But Mr Hollande's government is now being pulled in the opposite direction by left-wing MPs, who want to deliver on Socialist campaign promises.
A group of anti-austerity MPs, known as "les frondeurs" (rebels), say the government's economic plans would "asphyxiate any possibility of growth".
National Assembly hearings on the budget started on Tuesday and, far from backing cuts, the rebels are threatening amendments to boost spending.
President Hollande earned his nickname as "Mister Consensus" during his years at the head of the French Socialist Party.
But this time there may be a compromise he cannot pull off.