Juncker Commission: MEPs rattle would-be commissioners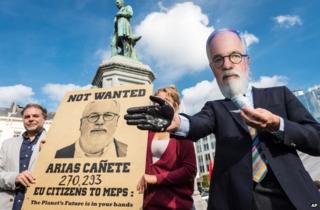 After a week of parliamentary confirmation hearings for members of the next European Commission, things have become a little ugly. Suddenly there is (whisper it) plenty of political posturing.
A carefully constructed bargain between the two main political groups in the European Parliament - the socialists and the conservative EPP - seems to have collapsed in acrimony.
At least for now.
The idea was that neither group would attack would-be commissioners affiliated with the other, ensuring a built-in majority to approve the new Commission.
It was all part of the grand coalition agreed between the two groups during the summer, which saw Jean-Claude Juncker win approval as the incoming Commission president.
But the ceasefire doesn't seem to have lasted long.
The socialists can't stand Miguel Arias Canete, the centre-right Spanish commissioner who has been put in charge of climate change and energy.
They cite family links to the oil industry, as well as sexist remarks for which he subsequently apologised.
On Wednesday evening, socialist MEPs gave a visibly shaken Mr Canete a torrid time, and in response the EPP went for the most visible target they could find - the high-profile French nominee, Pierre Moscovici.
The socialist former finance minister gave as good as he got, in a three-hour hearing marked by hostility and heckling. The EPP's conclusion? He was "hardly credible".
The fate of Mr Canete and Mr Moscovici still has to be decided - both held hostage to the political machinations in parliament.
Other commissioners have done well, but several have more homework to do.
Like Mr Moscovici, Vera Jourova from the Czech Republic and Tibor Navracsics from Hungary have both been asked to answer additional written questions - Ms Jourova on everything from company law to maternity leave, to foreign fighters of EU origin.
And spare a thought for poor old Jonathan Hill - Lord Hill, the British Commissioner-designate. Because his Conservative Party is affiliated to neither of the main groups, he's not been given much political cover.
So not only does he have a list of 23 specific written questions to answer by Sunday evening (bon weekend on that), but he will also take part in a second public "exchange of views" with MEPs, for 90 minutes next Tuesday.
"He screams conflict of interests," says British Green MEP Molly Scott Cato.
The second hearing, says the Spanish liberal Ramon Tremosa, will "allow us to decide if he's fit for the job".
In practice, Lord Hill will probably be ok. His initial appearance was affable and friendly, but a little bit vague. Round two beckons.
So is this all much ado about nothing? Possibly. There is talk in the corridors of reshuffles, and even of one or two fallers at the final fence.
But Mr Juncker is wisely saying nothing in public for now. He is waiting to see where the parliamentary muscle-flexing might lead.