Africa Europe migration: Lampedusa survivor remembers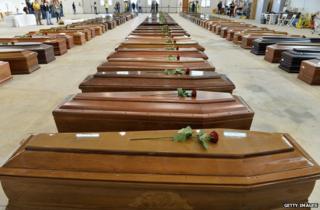 "I feel… so happy… so bad," says Adhanom, 24.
He struggles to describe how it feels to have survived the shipwreck off the Italian island of Lampedusa a year ago. The ship was carrying more than 500 migrants. At least 360 of them drowned.
"So many friends," Adhanom continues. "So many small children."
He doesn't finish his thought.
Adhanom left Eritrea in order to escape his country's conflict in the Horn of Africa (he asks me not to use his full name or take his picture - for fear of what might happen to his family back home).
The shipwreck drew attention to what has now become the world's most dangerous migrant journey: the boat trip from North Africa to Europe.
In its report, Fatal Journeys, the International Organisation for Migration says that more than 3,000 migrants have drowned in the Mediterranean since the start of 2014.
That's more than twice the previous peak in 2011. But the IOM says the real number of dead may be much higher. For every body discovered in the Mediterranean, it suggests that there may be at least two which are never recovered.
So far this year more than 100,000 migrants have made it to Italy. Many now live in reception centres in Sicily. Some eventually make their own way to other European countries.
Adhanom now lives in Sweden. He's training to be a car mechanic and is also learning Swedish. "It's very difficult," he says with a smile.
Every day, he calls his parents who are in Eritrea. They're still recovering from his escape from the shipwreck.
"My mother says every day, 'You are alive!'" he explains. "If I don't call for a week, she says, 'Something bad [has happened] to him'."
For now, he plans to stay in Sweden. But his eventual aim is simple: to go back home.
"If it's peace I want to [go] back to Eritrea - to live with my parents. If [there is] not peace… "
Here he pauses. Perhaps he's searching for the right word in English, his second language. Or perhaps the thought of being away from home forever is too difficult to contemplate.
He then finds the words he needs to give him a chance of getting back home: "I pray for peace."
---
Eritrea at a glance:
Gained independence in 1993
6.3m population
UN estimates 3,000 Eritreans leave each month
One-party state, opposition parties outlawed
No independent media allowed
Conscription into army until age of 40
Heavily dependent on earnings of the diaspora
Letter from Africa: Emptying Eritrea
---