EU review of environmental laws raises concern
By Roger Harrabin
BBC environment analyst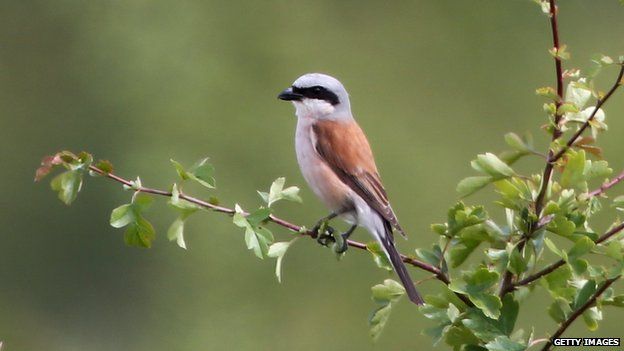 MEPs will get the chance this week to grill the nominees for Europe's top environment jobs about their green credentials.
The environment commissioner-designate is Karmenu Vella - a businessman from Malta, whose government faces criticism for its failure to stop illegal hunting of wild birds.
The energy and climate commissioner-designate is Miguel Arias Canete from Spain, a former oil firm president.
Both appointments are part of a reshuffle of environment and energy portfolios that has angered environmentalists but delighted business groups.
Both groups believe the changes herald a shift of priorities, from the environment to jobs and growth.
He has scrapped the commissioners for environment and energy, who argued the case for environmental protection.
The environment job is now combined with fisheries. Mr Vella will be questioned in the European Parliament on Monday.
Mr Juncker has asked him to review laws protecting birds and their natural habitat - and told him to report to the Commission's new vice-president responsible for economic growth, Jyrki Katainen. This all alarms Greens.
Catherine Bearder, a British Liberal Democrat MEP, is also worried. She wants a reassurance from Mr Vella that he "will not diminish or water down these vital pieces of legislation that have done so much to protect Europe's biodiversity".
In a parallel move, the climate commissioner's job - previously filled by the outspoken Connie Hedegaard - has been rolled in with the energy portfolio as Europe seeks to secure its energy supplies.
Commissioner-designate Canete will be questioned by MEPs on Wednesday - and already some MEPs are demanding that he sever all links with companies in which he has an interest.
They also want Mr Juncker to put sustainability on the same level as economic growth and competitiveness.
Parliament President Martin Schulz has written to Mr Juncker urging him to include sustainable development among the economic priorities assigned to Jyrki Katainen, the Euractiv news website reports.
The change of EU portfolios alarms Jeremy Wates, head of the European Environmental Bureau (EEB), an alliance of green activists: "Possibly even more disturbing than the shrinking of the environmental component in the new structure are the instructions given by Juncker to his proposed team.
"The incoming environment commissioner is requested to review legislative proposals such as the air and circular economy packages in the light of the 'jobs and growth' agenda, and to question the effectiveness of the Birds and Habitats Directives. This is a longstanding demand of anti-environment business interests.
"Under a banner of reform, a deeply regressive deregulatory agenda has been put forward here that reads like a wish-list of private sector interest groups hostile to the environment."
The changes were welcomed by Markus Beyrer from BusinessEurope. He applauded a "courageous approach... which underlines the clear aim to focus on crucial priorities necessary to make Europe more competitive to deliver growth and jobs".
An industry source later told BBC News the move was obviously a downgrade for environmental concerns in the light of Europe's struggling economy.
Mr Juncker said in his mission statement: "Protecting the environment and maintaining our competitiveness have to go hand-in-hand - both are about a sustainable future."
Correction: An earlier version of this story said the EU commissioner environment job was combined with farming. It is in fact combined with fisheries.