All to play for as EU prepares for Juncker era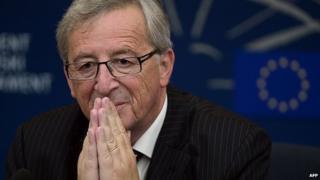 As expected, Jean Claude Juncker got his victory in the European Parliament. He is now the next president of the European Commission, and his campaign to get the job has been a big success.
But he certainly wasn't given a blank cheque.
There were 422 votes in favour of his appointment, and 250 against - with nearly 50 abstentions. That is a clear majority, but quite a substantial number of MEPs voted no.
His team was probably hoping for a more conclusive result. This is a reminder that the ad hoc coalition of parties that backed Mr Juncker certainly won't have everything its own way.
And when you look at the UK, the numbers are even more difficult.
It was a secret ballot so we cannot know for sure, but of 73 British MEPs I am guessing that only three voted for Mr Juncker.
Bridges need to be built on both sides.
But Mr Juncker now has the chance to put together a commission for the next five years.
The latest nominee to emerge from a member state is Lord Hill, the leader of the House of Lords in London.
He's hardly a household name, in Britain or in Europe. He's a fixer and a negotiator, counters Downing Street, he can get things done.
Whether he will help the UK win a major economic portfolio in the next commission remains to be seen - he will be up against former prime ministers among others.
So it may not be easy. But there are signs that Mr Juncker wants to divide up the commission posts in a different way.
Some of the economic portfolios could be split, for example, and there will be a commissioner in charge of cutting red tape.
The president-elect also says he hasn't promised anyone any particular job. (Honest, guv - there's no stitch up. We never do things that way).
And so on to a special EU summit in Brussels on Wednesday evening, where EU leaders will have their say.
It's all to play for.