All to play for in EU jobs push after Juncker vote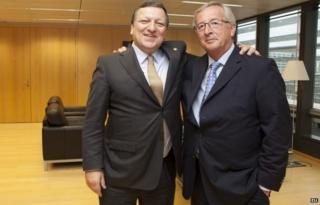 The dust has hardly settled after last week's summit, and Jean-Claude Juncker's appointment as president of the European Commission still has to be approved by a majority vote in the European Parliament. But thoughts are already turning to who else will sit on the next Commission and - equally importantly - which jobs they will get.
The current Commission is in office until 31 October, so there is a fair amount of time. But lobbying is fairly intense, and several countries have already put forward suggested candidates - Slovakia and Lithuania among others.
Some sitting commissioners - like Germany's Guenther Oettinger - are expected to stay on for a second term. And among the new faces there are likely to be some former prime ministers, including Jyrki Katainen of Finland and Valdis Dombrovskis from Latvia.
But these national nominees are not absolutely guaranteed a seat at the table. The choice of candidates - under the terms of EU treaties - is a joint task for member states and the president-elect of the Commission. There will need to be a balance between male and female commissioners, and each nominee has to be approved in parliamentary hearings.
The most sought-after jobs are usually the economic ones: commissioners in charge of economic and financial affairs (which will go to a country in the eurozone), the single market, competition policy, or trade, for example. There is a queue of countries hoping to get one of these posts, so some of them will not get what they want and will be disappointed.
There have been suggestions that France would like the competition job (and seeing as we are speculating, its nominee could be former Finance Minister Pierre Moscovici, or former Prime Minister Jean-Marc Ayrault, or even the mayor of Lille, Martine Aubry, the daughter of one Jacques Delors).
The UK would certainly love to have a big economic job too - perhaps the commissioner running the internal market - as it seeks to reform the EU and renegotiate its relationship with Brussels.
Who will the British nominee be, after its failed campaign to block Mr Juncker? The main candidate for several weeks has been the Leader of the House of Commons, Andrew Lansley. But there are suggestions of a change of heart in Downing Street, and talk of a surprise heavy-hitter appointment.
The trouble is that you cannot guarantee which job you are going to get when you make your nomination, but the more powerful the country the more likely that it will get its way.
Plenty of people will be whispering in Mr Juncker's ear over the next few weeks as he tries to put a team together.
Even after the names are sent in, member states will continue to lobby furiously; when the European Parliament has voted on his team, the European Council will still have a final say by qualified majority vote.
Finally, the choice of commissioners is also bound up with the allocation of other top jobs in Brussels during a summer of transition.
Whichever country the next president of the European Council comes from (a decision is expected at another summit in mid-July) will have less leverage to bid for a big Commission job. And of course the EU's foreign policy chief - the High Representative for Foreign Affairs and Security Policy - is also a vice-president of the Commission.
To sum it up - there is everything to play for.