European elections: Ireland's vote on austerity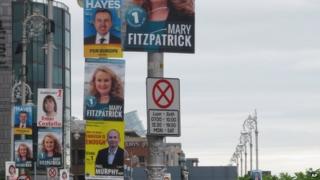 Austerity and the economy, rather than European issues, are centre-stage in Ireland's European election - as Sinn Fein's strong showing in opinion polls suggests the party could win European seats in the Republic again.
Gerry Adams's party is in strong contention for a seat in each of the Republic's three constituencies. It has had an MEP since 2004 but from Northern Ireland, sitting as part of the GUE/NGL European United Left - Nordic Green Left alliance.
Instead of fielding big-name candidates associated with Sinn Fein's past, when it was the political wing of the IRA, the party is running three virtually unknown newcomers. Two of them are women, among whom the party has had less electoral appeal.
The party did have one MEP from the Republic previously - Mary Lou McDonald, who held a seat in Dublin from 2004 to 2009.
Rather than debate the violence and divisions of the past, its young candidates have been keen to address the issues of today such as austerity, unemployment and emigration, which are dominating the election.
Despite a campaign start which coincided with the arrest of Mr Adams in Belfast for questioning over the murder of Jean McConville in 1972 (he was later released without charge), Sinn Fein is being tipped to possibly top the poll in Dublin.
Vote 2014
Full coverage of the European elections and results
Ireland's affair with the EU was once full-blown love, but this has cooled for some into a tough partnership, after the imposition of austerity following economic crash.
Outright Eurosceptic politics have not taken hold, however, and while some independent candidates are running on an anti-EU platform, only one is tipped to be in with the chance of a seat: Irish parliament member Luke "Ming" Flanagan, who has led a campaign against EU restrictions on turf-cutting.
Prime Minister Enda Kenny's Fine Gael party is expected to hold its own in the election and is in strong contention for four or even possibly five seats. Several strong candidates with big personal votes are underpinning party support despite the general unpopularity of austerity measures - among them new water charges which have loomed large in the campaign.
In contrast to its larger coalition partner in government, polls suggest the Labour Party could end up with no seats after winning three last time.
The former dominant party in Irish politics, Fianna Fail, is poised to win at least one seat and is in possible contention for another two, but is still held responsible by many voters for its role in power before the crash.
Other parties - the Greens, Socialists, and People Before Profit, as well as a number of independents have outside chances too. Opinion polls suggest unpredictable and exciting dogfights for the last seats in each of the three constituencies.