Salmond puts case for Scotland in EU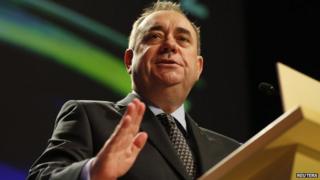 The Scottish First Minister, Alex Salmond, says an independent Scotland would be an "enthusiastic, engaged and committed contributor to European progress".
In his Bruges speech today he is seeking to reassure voters that leaving the UK would not leave Scotland isolated from the EU.
But rejoining the 28-nation bloc would be no simple matter. You can read my analysis on my blog here.