Did censorship charge help Fox News best Dish?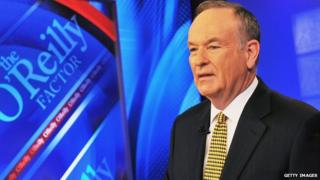 Fox News personality Bill O'Reilly told satellite television provider Dish Network "enough is enough", and it appears they listened.
Shortly before Christmas, Dish stopped including Fox News as part of its channel line-up as a result of a broader contract dispute between the satellite service and Rupert Murdoch's Fox television empire. On Thursday the two sides reached an agreement that, according to the Wall Street Journal, will boost the per-subscriber fee Dish pays for the news channel by 50%.
The blackout had resulted in a significant ratings drop for the news network. The International Business Times reports that a recent week's average daily prime-time viewership was 947,000, down from the 1.38 million viewers on the same week the previous year.
On Sunday Fox decided to take the gloves off. During the highly watched NFL playoff games, the news network launched a full salvo at Dish, using O'Reilly and Fox News presenter Megyn Kelly to pull the trigger.
"Attention Dish customers, Dish has dropped Fox News," O'Reilly, host of Fox's top-rated The O'Reilly Factor, says in a 30-second commercial. "Now you should drop Dish."
Kelly then notes her employer's position as the top-ranking cable news network: "Thirteen years at number one, now Dish doesn't want you to have Fox?"
"They're censoring what you see," O'Reilly adds. The spot ends with an 800-number and a plug for a website, www.keepfoxnews.com.
While the Fox talking heads' exhortations to cancel Dish may have proved difficult for some viewers, who are bound by long-term contracts, a Fox News executive asserted that Dish lost 90,000 subscribers (out of 14 million total customers) over the course of the blackout .
According to some critics, Fox's commercial, which also appeared on YouTube, went too far. TVPredictions.com's Phillip Swann says Fox used tactics that were "unfair and objectionable".
"This is not censorship, and by employing the term, censorship, Fox shamefully dishonours people and societies that live under brutal reigns of repression that actually do prevent the dissemination of movies, books and other communications," he writes.
More than that, however, Fox's advertising campaign put its journalistic stars on questionable ethical ground by "parroting talking points handed down by their network's top executives".
"They are exploiting their reputations as journalists to try to make their company's position seem more truthful and credible," he says. "And by doing so, we can't help but wonder if they do the same on other issues near and dear to network brass."
Dan Joseph of the conservative Media Research Center's MRCTV, says the dispute was more than just a battle between corporate heavyweights, however, it was also a political face-off between two high-profile business chieftains.
Mr Murdoch's conservative proclivities are well documented, but Joseph also notes that Dish founder and board chairman Charles Ergen is a "big-time donor" to the Democrats. He and his wife gave $96,800 [£64,000] to congressional Democratic campaign committees in the run-up to the 2014 mid-term elections.
"In the 2014 cycle Ergen gave almost exclusively to Democratic candidates, particularly to endangered Senate Democrats including Kay Hagen (North Carolina), Mark Pryor (Arkansas), Mark Warner (Virginia) and Mark Begich (Alaska)," he writes.
He also cites a 2012 federal complaint by the conservative-leaning government watchdog group Cause of Action alleging that Mr Ergen pressured subordinates to attend Democratic fundraising events.
Perhaps tellingly, Joseph links to a Fox News story on the accusations - which have yet to be formally investigated by the Federal Elections Commission. And it should also be noted that Dish chief executive officer Joseph Clayton gave $64,800 to a Republican congressional campaign committee, as did executive vice president Tom Cullen.
Jamal Carnette of the Motley Fool says the political debate around the Dish-Fox showdown only "muddies the waters".
It's not the first time a television service provider has dropped a channel as a tactic in a contract negotiations, but the war of words between Fox and Dish shows that the stakes are getting higher.
"This dispute could be a game-changer for pay TV in 2015," he writes. "For years, analysts have debated the pay-TV industry in terms of content versus delivery power - and most consider content to be king due to the emergence of new 'pipes' for releasing material, mainly the internet and streaming services."
Now, however, the existing system may be showing signs of cracking.
"The current pay-TV model is an outdated, socialistic, semi-third-party billing arrangement that has enriched programmers and deliverers at the expense of customers," he writes. "I think people from both political persuasions can agree the model is in need of positive disruption."
Now that the Fox-Dish dustup is in the books, Mediate's Joe Concha takes a look at the final score sheet and declares Fox the clear winner, thanks to the boost in fees and Dish's concession to give Fox's sister network, Fox Business, a more prominent place in its line-up.
"When the final gun sounded and scores are tallied up in the dispute between Dish Network and Fox, the only conclusion that can be made is that Dish ... got served," he writes.
"How did Fox win?" Concha asks. "Simply put, they had the horses in the form of O'Reilly and Kelly, the message ("censorship"), but most of all, passionate viewers of Fox News voting with their wallets - the kind of viewers who execs even at other networks will tell you are the most notoriously loyal of any out there, free or cable."
If this is indeed the latest and biggest battle between content providers and distribution services, as Motley Fool's Carney speculates, the war could be over before it really starts.