Stuart Scott and the rise of the 'urban' sports broadcaster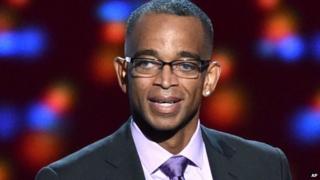 Stuart Scott, who died on Sunday morning at the age of 49, was a different kind of sports broadcaster when he appeared on the scene in 1993 - and it wasn't just because he was one of ESPN's first high-profile black personalities.
With a host of catchphrases and a boisterous energy that revealed a love of the games he covered, Scott became a popular fixture on the sports network and a defining voice for a generation of fans.
Following his passing, after a seven-year struggle with cancer, sports stars, politicians, celebrities and fellow journalists weighed in with a torrent of praise for Scott and his legacy.
President Barack Obama said that he would miss Scott.
"Twenty years ago, Stu helped usher in a new way to talk about our favourite teams and the day's best plays," he said in a statement. "For much of those 20 years, public service and campaigns have kept me from my family - but wherever I went, I could flip on the TV and Stu and his colleagues on SportsCenter were there."
Basketball star LeBron James wrote on Instagram that Scott was a "genuine cool person".
"What you did for our culture, bringing that Swag to reporting can only be copied (I hear it today on TV watching sports)," he wrote. "Thank you so much for being you and giving us inner city kids someone we could relate to that wasn't a player but was close enough to them."
The important role Scott played in mainstreaming "urban" sports style was echoed by another high-profile athlete, NFL's Keyshawn Johnson, in an interview with ESPN.
"Looking at him, knowing that he was able to bring that hip-hop culture, that urban feel, to television sports broadcasting, something that's never been done before, gave me the hope that I didn't have to be some corporate guy in a white shirt and red tie and sit there and talk a certain way," Johnson said.
It wasn't just black athletes who expressed gratitude for Scott's efforts, however. His influence was more directly felt by black sports journalists who came after him - such as Jason Whitlock, LZ Granderson and JA Andade. Their words following Scott's death were some of the most poignant.
"It takes courage and conviction to be different inside a large corporation," writes Whitlock, who built a national audience at ESPN but often clashed with the network's management. "Stuart Scott didn't want to sound like everyone else on television. He didn't want to appeal to the same audience. He wanted to be unique, a voice for a generation marching to its own beat. Mission accomplished."
He writes that Scott was "polarising, authentic, must-see, fun, passionate and supremely talented" - the "leader young broadcasters follow".
Granderson says Scott revolutionised the way broadcast sports journalism was practised, calling him a "game changer".
"If you find that proclamation a bit hyperbolic, it's only because you either didn't know or have forgotten how sports anchoring sounded before Scott's arrival at ESPN in 1993," he writes on CNN.com.
"His humorous flashes of black Americana didn't appeal to everyone and his critics were not shy about sending him letters to let him know," he says. "But for those of us who longed for a soundtrack to accompany the soul of the new generation of black athletes who were redefining how big-time sports were played, Scott was a welcomed and masterful composer."
Adande, ESPN's professional basketball reporter, says there's more to Scott than the catchphrases and embrace of urban culture, however.
"Although he was known for bringing hip-hop vernacular to ESPN, he took pride in packing more information than anyone else into each highlight," he writes. "Go back and watch the clips, only this time ignore the sayings and count the number of facts."
Despite his cancer diagnosis in 2007, Scott continued to work for ESPN while undergoing treatment and engaging in a gruelling physical conditioning programme. Last year he was the master of ceremonies at the NBA championship trophy presentation and received the "Jimmy V Perseverance Award" at the ESPYs - an ESPN-run awards ceremony that celebrates the kind of fusion of sports and popular culture for which Scott was a trailblazer.
"When you die, it does not mean that you lose to cancer," Scott said during his acceptance speech. "You beat cancer by how you live, why you live and in the manner in which you live."