Are the media ignoring another St Louis killing?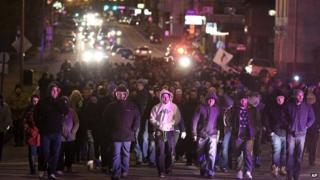 On early Sunday morning in St Louis, Zemir Begic was beaten to death by hammer-wielding assailants.
According to St Louis police, the 32-year-old Bosnian immigrant was driving his car with two passengers, including his fiance, when something hit his vehicle. Begic got out and was confronted and murdered by multiple attackers.
Begic was unconscious when emergency personnel arrived on the scene, and he later died at a local hospital.
Police have arrested three teenage suspects and charged them with murder. They are still looking for a fourth.
Although the suspects are black or Hispanic, and Begic was white, St Louis police say that they have no indication that race was a factor in the attack.
"We think it was wrong place, wrong time," police representative Schron Jackson told the St Louis Post-Dispatch.
The murder has stunned the city's Bosnian community, one of the largest in the US. On Sunday more than 150 residents took to the street to protest what they see as increasing incidents of violence in their neighbourhood.
Given that the attack occurred less than 14 miles from the town of Ferguson, which has been under a bright media spotlight since the August shooting of a black teen by a white police officer, local residents have been quick to draw comparisons.
"In Ferguson, they want to make a protest about nothing and yet that attracted attention across the nation," Adam Esmerovic told the Washington Post's Todd C Frankel. "We're just trying to keep more police down here because of these little thugs."
Frankel observes that it's police inaction, not action, that has demonstrators angered. He describes the scene at the protests, drawing an implied comparison to the occasionally violent demonstrations that took place after officer Darren Wilson was cleared by a grand jury last week in the shooting death of Michael Brown:
"The protesters did not chant. The protesters didn't hurl insults at police. Some huddled around a bonfire on a garage's parking lot. A memorial for Begic with stuffed animals began to take shape in a corner. The protesters only edged into the street whenever police showed signs of losing interest and departing."
Beyond the local reaction, the story has gained traction among conservative commentators and bloggers, who view it as an example of media and liberal activist hypocrisy for expressing outrage over Brown's death but ignoring the Begic attack.
If the episode can somehow be linked to the Ferguson demonstrations, that fact could be used to discredit the protest as a whole, characterising it as the work of lawless and violent malcontents (a theme also raised during recent episodes of looting and vandalism).
"Where is the national media?" asks the conservative social-media-gazing website Twitchy.
Another conservative blog collected blank search results for "Begic" on news sites like Buzzfeed, Mother Jones and MSNBC.
Twitter posters widely circulated a screen capture showing that the only "Begic" hit on a New York Times search was for an article on dry-cured hams.
The media, writes Arnold Ahlert of the Patriot Post, refuse "to consider the possibility that Begic was killed because of his race, or as a spill-over reaction to the jury verdict and subsequent rioting in Ferguson".
"The same media that descended on Ferguson en masse, in all their fact-free, hysteria-inducing, narrative-perpetrating glory, will be nowhere to be found," he writes. "The thugs who roamed the streets with hammers, 'just for the fun of it', will never have a bounty placed on their heads, or be forced to go into hiding in fear of their lives. Attorney General Eric Holder will not descend upon the scene to determine the motives of those thugs, or conduct a follow-up investigation to see if Begic's civil rights were violated."
He says the Begic story will be buried in the backs of newspapers and then "completely forgotten".
This hasn't exactly proven to be the case, however. Possibly due to the growing conservative outrage - which has more influence on mainstream journalists than right-wing advocates usually acknowledge - numerous media outlets have begun taking notice of the story, such as the aforementioned Washington Post, several New York City papers, CNN and NBC.
But is it fair to draw connections between Ferguson and this attack - beyond their close proximity? Like Ferguson, there are conflicting eyewitness accounts being reported. Although police assert that ethnicity was not a factor, some aren't so sure - and point to locals who say the attackers yelled racial epithets.
It's impossible to ignore, however, that Brown died at the hands of a police officer. In Ferguson, police were part of the story - and the focus of the black community's anger. Black-on-white crime, which appears to be the primary concern of some conservatives in the Begic case, is relatively infrequent. According to recent statistics, 83% of whites are killed by other whites, while 93% of blacks are killed by other blacks (although that last figure is also a subject of concern for Republicans like former New York Mayor Rudy Giuliani).
Given the long, troubled relations between law enforcement and blacks in the US - and the challenge of race relations in the US as a whole - the Ferguson incident was a match struck in the proverbial tinderbox.
The subsequent demonstrations, and a police response that was criticised as disproportionate and overly militarised, added fuel to the fire with visuals that captured the attention of the media - and the nation.
There can be no doubt that Begic's murder has failed to generate the same level of attention as the Brown shooting. And Begic's death, like the death of all victims of violent crime, is unquestionably tragic.
But what if the problem isn't that Brown's death received too much attention compared to Begic's murder? More than 15,000 homicides have been committed in the US so far in 2014 - black and white, police and civilian, immigrant and native-born.
Shouldn't every one of these deaths be a national outrage?