The other Isises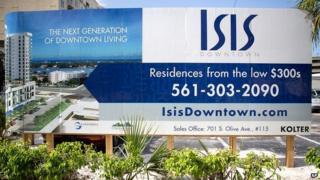 The Institute for Science and International Security has a name problem. Or, more specifically, an initials problem.
Ever since its founding in 1993, the Washington-based think tank, which focuses on nuclear non-proliferation issues, has relied on its acronym, Isis, as a shorthand for its name.
Then Al-Dawla Al-Islamiya fi al-Iraq wa al-Sham, commonly translated into English as the Islamic State of Iraq and Syria, and often abbreviated as Isis, came along.
As the militant group's power and influence in Iraq and Syria have spread, its name has become associated with anti-Western rhetoric and the use of brutal violence to impose Islamic law and persecute differing religious sects and ethnicities.
On Tuesday the think tank Isis posted a message on its website, pleading with the media and non-governmental associations to refer to the Islamic group by a different set of initials.
"The widespread, persistent use of the acronym Isis to refer to this terrorist organisation continues to cause considerable confusion and is causing reputational harm to the many organisations and entities that also use this acronym," they write.
They say that the United Nations and the US refer to the militant group by the initials Isil, short for Islamic State of Iraq and the Levant (which of course could present a challenge to an entirely different set of organisations).
In addition, they write, the Islamic group itself announced in June that it wished to be called the Islamic State (IS) - the acronym currently used by the BBC.
If that's not enough, the think tank goes on to note that the original Isis is an Egyptian goddess "whose mythology includes motherhood and bringing life from death". If she could be reached for comment, she'd probably also object to being associated with what Isis (the think tank) calls a "murderous anti-feminine terrorist organisation".
The think tank, and the goddess, aren't the only Isises facing a branding nightmare.
The UK-based lingerie company Ann Summers recently apologised for "any offence caused" by its Isis line of bras. And a mobile payment company, Isis Wallet, announced in July that it will change its name.
"However coincidental, we have no interest in sharing a name with a group whose name has become synonymous with violence, and our hearts go out to those who are suffering," company head Michael Abbott wrote.
A Florida condominium project, ISIS Downtown, has also decided it would be wise to find a new name.
The think tank isn't interested in abandoning Isis to the militants, however, and believes the media and other groups should change their nomenclature.
Are they going to comply? The Washington Post's Al Kamen says his paper "will stick with Isis".
"Dueling acronyms are a constant problem in this acronym-crazed town," he writes. "There's AFP, which is the French wire service and the Koch operation; the ABA, which includes lawyers, bankers and a basketball organisation; GMA, a morning TV show and the grocers' association; and SEC, a financial watchdog and a college basketball conference."
Of course, Good Morning America and the American Bar Association aren't slaughtering civilians and beheading journalists.
Kamen says that the "best bet" is for someone to destroy the "bad Isis".
"Then we eliminate this problem … and a host of other more deadly ones," he concludes.
Perhaps the folks at Isis (the think tank) aren't all that convinced this outcome is achievable anytime soon.