A new, complicated chapter opens in Ferguson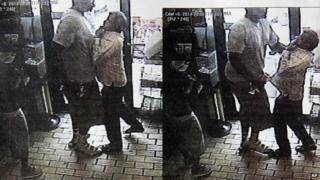 Friday morning's revelation by Ferguson, Missouri, police Chief Thomas Jackson that Michael Brown was a suspect in a convenience store robbery hours before he was shot and killed by police officer Darren Wilson could change everything.
Or it changes nothing.
Shortly after Mr Wilson was identified as the officer involved in an apparent attempt to apprehend Mr Brown, the internet erupted in reaction - exposing a fault line in opinion that will be difficult to bridge.
First and foremost, however, comes the question of why it took so long for this new information to come out.
"This by no means justifies what happened to Brown," writes Talking Points Memo's Josh Marshall. "But it seems to bring home in an entirely new way just how unprepared and frankly clueless the Ferguson police department is that they're only managing to mention this part of the story after days of war-zoning the city streets."
Ed Morrissey of Hot Air blog agrees: "If the Ferguson police had been more forthcoming about the incident up front, much of this week's drama might have been avoided, or at least somewhat mitigated."
For some, the information provided by the police is evidence of a rush to judgement on the part of protesters, activists and the media.
"Facts don't matter," tweets conservative columnist Ben Shapiro. "Media, pols report that every shooting by a white cop of a black unarmed suspect reflects generalised American racism."
"We still don't know what went down with cop and Michael Brown," he adds. "But we can say that the 'gentle giant' stuff seems over the top."
The Daily Caller's Jim Treacher tweets: "And yet another leftist narrative starts to unravel. But the important thing, for them, is to establish it in the first place."
Others say the St Louis County police are only muddying the waters by releasing information that has no direct bearing on whether Mr Wilson was justified in shooting Brown.
"Ferguson police chief gave the officer a week to clean up his internet history, then released a report unrelated to the shooting," tweets Charles Johnson of the Little Green Footballs blog. "This seems like an attempt to poison the well, not clarify anything."
"Thanks for the pics of alleged convenience store shoplifting," tweets Salon's Mary Beth Williams. "Where are the ones of the cop shooting an unarmed man, again?"
David Corn of Mother Jones tweets: "Bottom line: cops are supposed to use deadly force only when lives are at risk. You don't shoot robbery suspects."
Only that may not be the case according to Missouri law.
The Federalist's Sean Davis notes that the state's relevant statute allows law enforcement officers to use deadly force "when he reasonably believes that such use of deadly force is immediately necessary to effect the arrest and also reasonably believes that the person to be arrested … has committed or attempted to commit a felony."
If Mr Wilson reasonably believed Mr Brown committed a strong-armed robbery felony, which is alleged in this case, it could give the officer legal cover.
If such a charge for swiping a box of cigars and shoving a store clerk seems extreme, it's not without precedent. In 2007 another Missouri man faced robbery charges and up to 30 years in prison for stealing a 50-cent doughnut and shoving a store employee. (The story made national headlines, and the perpetrator ended up receiving a five-year suspended sentence and 90 days in jail.)
As if there was any question, the Ferguson case - and the controversy surrounding it - is far from over. And it may be starting a new, highly charged chapter.
"Let me be very clear," tweets Greg Carr, chairman of the Howard University Department of Afro American Studies. "The Ferguson police and America are playing with fire if there is an attempt to justify the murder of Mike Brown."