Canadians warned over China dealings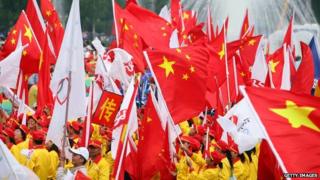 A review of the best commentary on and around the world...
Today's must-read
Two Canadians have been accused of spying, the Wall Street Journal reports.
The couple, Kevin and Julia Garratt, ran a small coffeehouse in Dandong - and helped people plan tours of North Korea. But now the Garratts have been identified by Chinese authorities as suspects in espionage.
If found guilty, reports CBC News, the Garratts could be sentenced to death.
The espionage case highlights the tensions between China and Canada. Canadian officials said recently they believed that China had cyber-hacked one of their agencies, the National Research Council.
Chinese officials said the accusations are false.
Writing on Foreign Policy Blogs, Gary Sands, the director of a venture-capital company, says Chinese officials have a complicated past.
He writes: "China stands out not only for stealing information but technology, in a desperate bid to compete economically in green technologies, new information technologies, biology and high-end manufacturing with the likes of the US and Japan."
Writing in the Globe and Mail, David Mulroney, who has served as Canada's ambassador, says Canadians should be "clear-eyed" when dealing with China.
"China is not our best friend, any more than it is the sum of all fears," he writes.
"China is at the heart of changes that expose us to new levels of threat and uncertainty," he writes. "We need to respond with skill, purpose and confidence," he writes. "The only thing more dangerous than engaging China is not engaging it."
Kenya
There has been a "global battle of regimes" between authoritarian capitalism and democratic capitalism across Africa in recent months, says the New York Times' David Brooks.
China has a strong economic presence across Africa, which adds to the economic repression of minorities and the illusion of power for elites, he says.
African leaders are gathering in Washington this week. But the US has a small presence throughout Africa compared to that of China, says Brooks.
"What happens in Africa will have global consequences in the battle of regimes," he writes. "If African nations succumb to the delusion of autocracy, we'll have Putins to deal with for decades to come."
Iraq
Religious minorities in Sinjar are in danger, says The Daily Beast's Andrew Slater. "Without Western champions and sympathisers, the non-Christian religious minorities of Nineveh province are being slowly exterminated, driven off or forced into hiding," he writes.
Kurdish fighters are planning their defence, he says, but time is running out.
BBC Monitoring's quotes of the day
A factory explosion in Kunshan, China, killed at least 68 people. Local media report an initial investigation has suggested the blast was ignited in a polishing workshop - and that local safety authorities had warned the factory about risks.
"Local authorities should comprehensively investigate the work environment of local companies and inform the public whether work conditions at the Zhangrong factory are indeed as bad as reported by its employees and whether similar work environments are widespread." - editorial in Youth Daily.
"It is worrying that against the background of a transforming economy and adjustments to [China's] industrial structure, more and more companies resort to heartless approach to business and turn their workers into machines." - editorial in Jinghua Shibao (Beijing Times).
Have you found an interesting opinion piece about global issues that we missed? Share it with us via email at echochambers (at) bbc.co.uk.