Plagiarism charge rocks US Senator John Walsh's election campaign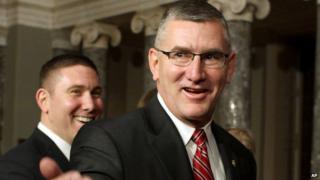 On Wednesday the New York Times reported that Senator John Walsh of Montana plagiarised significant portions of a paper written in 2007 while completing a master's programme at the US Army War College.
The Times investigation compared the former adjutant general of the Montana National Guard's 14-page thesis with several previously published scholarly works. One 800-word section of Mr Walsh's paper appears to have been taken directly from a 2002 Carnegie Endowment for International Peace report on Middle East democracy and US foreign policy.
(The paper provides a line-by-line interactive analysis here).
These allegations created particularly keen interest in the US political world - and not just because it appears that 14 pages is an acceptable length for a War College master's degree thesis.
Mr Walsh, a Democrat appointed to the Senate in February to replace now-US Ambassador to China Max Baucus, is running for election in November, and his seat is very much at risk.
Republicans need a net change of six Senate seats in this fall's balloting to take control of Congress's upper chamber, so any scandal that hurts a Democratic incumbent is bad news for the party.
Although polls show Mr Walsh behind his Republican opponent, Representative Steve Daines, he had appeared to have been closing the gap recently. According to a July 21 Public Policy Polling survey, the Democrat trails Mr Daines by seven points, down from 17 last November.
Mr Walsh initially told the Times he did not believe he plagiarised, but later said he committed an unintentional mistake. He said he was taking anti-depressant medications at the time due in part to post-traumatic stress disorder (PTSD) from a year-long tour of duty in Iraq in 2005 and a fellow veteran's recent suicide.
"I don't want to blame my mistake on PTSD, but I do want to say it may have been a factor," Mr Walsh told the Associated Press. "My head was not in a place very conducive to a classroom and an academic environment."
Plagiarism scandals are nothing new in the media-political world of Washington, DC, of course, and they're not always career-threatening.
Last November Buzzfeed reported that portions of Republican Senator Rand Paul's 2012 book appeared to be lifted from previously published sources.
The Kentucky senator's office told the website it "will implement a new 'approval process' to ensure proper citation in the future," and the Kentucky Senator continues to be considered a top-tier contender for the 2016 Republican presidential nomination.
In 1987 then-Senator Joseph Biden's bid for the Democratic presidential nomination was derailed by the revelation that he had been disciplined for academic fraud while in law school and had incorporated lines by British Labour Party leader Neil Kinnock into his speeches without attribution.
Mr Biden, of course, is now the US vice-president - something conservative wags on Twitter enjoyed joking about on Wednesday.
Many commentators have been quick to write off Mr Walsh's chances to hold onto his Senate seat, however.
The senator, writes the Huffington Post's Chris Weigant, is "toast". While some politicians can overcome plagiarism scandals, he says, this one is electorally fatal.
"Running as an ex-military candidate means running on a military tradition of honour," he says, "but when that honour is tarnished it can cut even deeper than with non-military politicians, in the eyes of the public."
Don Pogreba of Intelligent Discontent, a Montana-based progressive website, isn't willing to give up quite yet, though.
He says Mr Walsh's plagiarism is "the work of someone who probably didn't entirely understand the conventions of attribution in an academic paper."
One episode shouldn't overshadow Mr Walsh's career of service and heroism, he continues.
"I think most Montana voters will see the ethics of a man who put his life at risk in Iraq during a lifetime of military service and give little credence to a matter of appropriate footnotes," he writes.
Conservatives reacted to the Times report with optimism that a Senate pickup was all but assured - although Breitbart's John Nolte took opportunity to take a swipe the New York paper for what he says is continued liberal bias.
"You think if Walsh was ahead or close, NYT woulda' run this now with control of the Senate on the line?" he tweets. "Please."
Others objected to Mr Walsh's mention of PTSD in his defence.
"Not only is it a factually inaccurate statement since PTSD does not cause lying or cheating," writes "Uncle Jimbo" on his Blackfive military blog, "but now you have smeared all the people fighting their PTSD who do not use it as an excuse to cover up some sad character flaws."
If anything, this story should serve as a cautionary tale to politicians and those who aspire to office. Ethical lapses, no matter the reason, can have a long shelf life. What's buried in the past, particularly in the modern digital world, doesn't always stay there.