US football's Amazonian heartbreak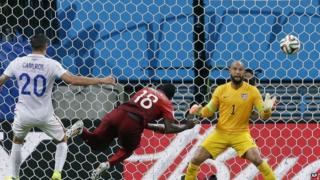 There's an old US saying that a tie in sports is like kissing your sister. Nice and all, but not exactly what you're hoping for.
Such was the case on Sunday, as the US got an acceptable result out of its match with Portugal, but the way it went down - with a last-second goal denying US victory - was agonising.
Now, the morning after, US commentators are left with a bittersweet mix of optimism and anguish.
"This was a night in which Portugal were outcoached, outplayed, outfought and - for 94-and-a-half minutes - very clearly the second best team on the field," writes MLS Soccer's Matthew Doyle.
It was an ending that was about as "cruel as they come," says ESPN's Doug McIntyre.
"This US team had captured the country's imagination after its thrilling late win over Ghana, and a victory on Sunday would have sent the mainstream interest level through the roof," he writes. "To come so agonisingly close to what would have been the biggest win in national team history makes it even tougher to swallow."
World Soccer Talk's Abe Asher says that despite the frustrating outcome, the match showed the potential of US soccer after an ugly, defensive battle against Ghana.
"Against Portugal, this was a 21st century performance," he writes. "It was what [US coach] Jurgen Klinsmann has promised. America played a world superpower toe-to-toe. And they were seconds away from winning."
Instead, the Americans had to settle for a draw, as US football analysts lamented the missed opportunity.
"You want to win a World Cup?" asks USA Today's Nancy Armour. "Or at least be included in the conversation? Then play like it. The best teams win games in the closing seconds, they don't give them away."
If there is one indication that the US is maturing as a soccer power, it's that it hasn't taken long for commentators to find a goat to scape for the loss - centre back Geoff Cameron.
"His middle-school miskick gifted Portugal the first goal and his shocking inability to cut off service literally in the final seconds of the match gave Portugal a free header to tie the match," writes CBS's Jason La Canfora.
"Simply put," he says, "that can't happen at this level."
Veteran midfielder Michael Bradley has also been spotlighted for some blame, as he missed what should have been an easy goal early in the second half and lost possession in the waning seconds to Cristiano Ronaldo, whose quick counterattack set up the equalising goal.
"It's not inaccurate to say that these two Bradley errors cost the Americans the win," writes Slate's Jeremy Stahl.
It was "a sobering, sucker-punch shot to send the Americans back down from their pedestal and stop an historic win", writes Soccer Newsday's Herb Scribner.
Business Insider's Cork Gianes breaks down the last minute of the match in painful detail - the kind of day-after analysis and second-guessing Americans are used to on Mondays after NFL games in the fall, but a rare occurrence when the topic turns to international football matches.
Klinsmann, he notes, was urging his team to get back on defence, but "nobody listened to him".
After weathering criticism leading up to the tournament, Klinsmann seems to be pulling all the right strings now, however, and is now being regarded by many US sports fans as some sort of football wizard.
In the first US match against Ghana, he brought in defender John Brooks, who headed the winning goal from a corner-kick. On Sunday, DeAndre Yedlin, a 70th minute substitution, helped set up Clint Dempsey's goal.
"Klinsmann is the right man to have at the helm," World Soccer Talk's Asher writes. "In a major tournament, Klinsmann's positivity, belief and energy are constant advantages."
But despite all the progress, despite the fact that most US fans would have been elated if they had been told before the tournament that they would have four points going into their final game, the day after is full of what-might-have-beens.
"As far as soccer has come - and Americans filling the streets and stadium in the Amazon are proof it's come a long way - it still needs landmark moments to get casual fans watching between World Cups," writes USA Today's Armour.
Four years ago, the US had a great moment - Landon Donovan's late goal to send his team to the knockout round. But that came at the end of a lacklustre game against a weaker Algerian squad.
In 2002, the US had a magical run to the quarter-finals, but with South Korea hosting the games, all the matches occurred in the dead of night in the US. I recall rushing out of a Washington, DC area bar with dozens of elated fans after the US's surprise win over Portugal, only to be greeted by the curious gazes of morning commuters oblivious to the heroics of their countrymen half a world away.
This time around, the US played on a Sunday afternoon - prime sports viewing time across the country. The nation was watching - early estimates have the match as one of the highest-rated US football games ever.
Americans who were poised to celebrate, however, were left pondering the various scenarios for the final round of group play and the vagaries of Fifa tiebreaking rules. Some are hoping that the German side show a bit of empathy for their former coach and national hero, Klinsmann, and plays for a mutually beneficial draw.
"For the record, I'd be fine with the USMNT [US national team] and Germany leaving the ball at the centre circle and staring at it for 90 minutes," tweets Business Insider's Tony Manfred.
MLS Soccer's Doyle says a tie with Germany shouldn't be too surprising:
We saw it four years ago when Spain and Chile played - they knew a 2-1 Spanish win would put them both through to the knockout rounds. Guess what the final score was?
"The game can be cruel," he concludes. "But it can also be predictable."
Despite Sunday's outcome, few US fans could have hoped that their national team would be in such good shape with one match left in group play. Or predicted that such a result would leave them with regrets about not accomplishing more.