Eric Shinseki's fate aside, the VA debate is about government competence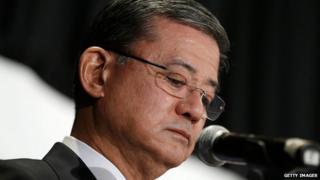 Update: President Barack Obama announced on Friday morning that Secretary of Veterans Affairs Eric Shinseki has resigned.
Now that the former Army general is exiting the picture, expect the focus to shift even more than it has already toward what the Veterans Affairs story says about the larger issue of government competence.
***
Pressure continues to mount on Department of Veterans Affairs Secretary Eric Shinseki, as investigation into delays in treating patients has found "systemic problems" in the department.
At this point, nearly two dozen members of Congress on both sides of the political divide have called for the secretary's resignation. The White House has offered tepid support for the embattled former general, with press secretary Jay Carney saying that President Barack Obama will wait to determine accountability "once we establish all the facts".
Behind the headlines about Mr Shinseki's fate, however, lies a larger debate over what the Veterans Affairs (VA) scandal says about the government's ability to manage a large-scale healthcare programme. In many ways it's a rehash of the ongoing political tug-of-war over healthcare reform.
The healthcare debate has died down a bit, as enrolment in the programme surged this spring and problems with the healthcare.gov website were fixed. The VA story has given critics on the right another chance to air their objections, however.
This time they're targeting a VA system that can accurately be characterised as full-fledged socialised medicine, since the facilities are owned by the government and the doctors are government employees.
During debate over passage of the Affordable Care Act, some supporters pointed to the VA as a successful model for a more extensive government involvement in management of healthcare. Congress opted for a scaled back reform relying on private insurance companies and medical providers, but the praise of the VA has been repeatedly thrown back at those advocates by conservative critics in recent days.
One conservative commentator, neurosurgeon-turned-Republican-pundit Ben Carson, went so far as to say on a Fox News show that the VA scandal was a "gift from God to show us what happens when you take layers and layers of bureaucracy and place them between patients and the healthcare provider".
"If we can't get it right with the relatively small number of veterans, how in the world are you going to do it with the entire population?" he asked.
Townhall's Guy Benson thinks Carson's comments were "terribly unhelpful", but that he is correct that the scandal "presents a relevant and pressing opportunity for opponents of government healthcare".
The VA's troubles expose the department's inability to understand that modern healthcare can't be done both fast and on the cheap, writes Reason magazine's JD Tuccille.
"To the increasingly limited extent that it's allowed, American private medicine recognises the compromises that have to be made and offers a variety of coverage at different price points," he writes.
He continues:
The VA has tried to pretend that compromises don't have to be made; that it can, somehow, deliver care to everybody without worrying about cost. But it faces the same lack of infinite resources as everybody else. If the VA won't charge more for quick access to better care, fast will have to give. So we end up with secret waiting lists.
National Review editor Rich Lowry writes in Politico that the VA is "an island of socialism in American healthcare".
"For the left, the Department of Veterans Affairs is how healthcare is ideally supposed to work," he says. "No insurance companies, no private doctors, no competition - just the government and the patient."
According to Lowry, however, "it is perhaps the worst bureaucracy in the federal government".
PJ Media's Roger L Simon says that even maligned-by-the-left government contractor Halliburton could have handled veterans' care better than the VA.
"Probably almost any business would have," he writes. "There at least would have been some accountability."
The VA should be privatised, argues Avik Roy in Forbes.
"There is only one way to truly reform the VA, to truly ensure that veterans get the care they need," he says. "And that is to give vets the ability to take the money that the government spends on them and use it to buy high-quality, private insurance."
The apparent scope of the problems at the VA and the rapidly escalating level of rhetoric from critics on the right have put liberals who believe in government's ability to take on complex public issues on the defensive.
The New Republic's Brian Beutler points out that conservatives don't really have veterans' best interests in mind as they ramp up their attacks.
"Conservatives are treating this not as a fixable problem but as an exercise in building a narrative that will help them devolve, cut and/or privatise veterans health services and other government programmes," he writes.
He says President Barack Obama and his fellow Democrats shouldn't cede ground to their Republican critics:
Quality of management isn't a function of a system's relative degree of privatisation. Just ask the airlines, Wall Street, your electricity company and Target. Likewise being a good manager doesn't just mean avoiding problems, but fixing things - not dissolving the managed entities when things go wrong.
Despite all the criticism of the VA, writes syndicated columnist Froma Harrop, it's important to note that veterans generally are happy with their level of care from the government-run programme.
"You see, getting medical care can be rougher outside government-run programs than inside them, as contented veterans and Medicare beneficiaries repeatedly tell pollsters," she writes.
She also notes that many of the charges levelled against the VA are still just allegations, including the reports that 40 or more veterans died while waiting for medical services in Phoenix, Arizona. At least 17 of those deaths, according to the interim government investigation, have been found to be unrelated to wait times.
Privatising would be the worst possible answer to the VA's current problems, writes Daily Kos's Jon Perr:
Sending millions of older, sicker Americans - many of them requiring specialised care for rare and complex health problems - into the waiting arms of private insurers, private doctors and private pharmaceutical firms - is a recipe for chaos and de facto rationing on a grand scale.
Whether Mr Shinseki stays or goes - and, based on the current trajectory of this scandal, his job is hanging by a thread - the VA story is far from over. Investigations into the delays and possible cover-ups and criminal wrongdoing will continue well into the summer.
It will all be rolled into the ongoing debate over the role and effectiveness of government in healthcare - and, for that matter, everywhere else - which will continue unabated.