Report: Nato has left the east exposed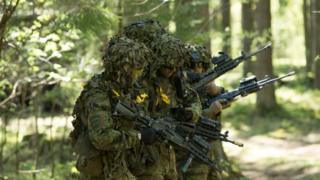 A review of the best commentary on and around the world...
Today's must-read
Nato Secretary General Anders Fogh Rasmussen recently assured Nato member nations that the alliance is strong, but an internal report tells a different story.
According to draft Nato documents obtained by Germany's Spiegel magazine, the mutual defence pact is toothless when it comes to defending the Baltic states and Poland from possible Russian military incursions.
Spiegel quotes a key portion of the report:
Russia's ability to undertake significant military action with little warning presents a wider threat to the maintenance of security and stability in the Euro-Atlantic area. Russia can pose a local or regional military threat at short notice at a place of its choosing. This is both destabilising and threatening for those allies bordering or in close proximity to Russia.
While such an assessment might once have seemed "inconceivable", the magazines writers assert, "the crisis in Crimea and now in eastern Ukraine has called many certainties into question". The Russian threat, they conclude, cannot be dismissed.
This has serious consequences, they write:
If NATO, despite the solemn obligation enshrined in Article 5, were incapable of reacting on a par with Moscow in the event of a Russian incursion into the Baltic countries, the alliance could disintegrate as a result, because it would be breaking the very promise that justifies its existence.
Poland, they write, is getting "increasingly anxious, and is venting its displeasure at the West". Polish officials feel that Nato has not made the type of military investments in their nation - such as bases, ports and communications facilities - that established alliance members enjoy.
Nato finds itself in this situation because it made a conscious decision to move away from mutual defence toward becoming a "global police", they say, while also downsizing their military budgets.
"Meanwhile, Russia has modernised its military considerably," they write. "Western military experts have observed for some time that Russia is expanding and practicing its military capabilities."
The report is only a draft, the Spiegel writers caution, and it may be smoothed out by the time Nato defence ministers meet on 3 June. The documents, however, remain "as sobering as they are alarming".
To drive the point home, Spiegel quotes an anonymous German government expert who says that if Mr Putin ordered an invasion of the Baltic states, "we wouldn't even show up in time for the Russians' victory celebration".
Thailand
A nation stuck in the mud - While Asian nations such as India, Myanmar, Japan, Indonesia and even China have brought in new, reform-minded leaders, writes the Asia Society's Matt Stumpf for CNN.com, Thailand continues to be mired in perpetual crisis.
The two sides in the political standoff in Thailand continue to bicker and refuse to compromise, he says, which has led to the recent military coup.
"The only common viewpoint among the competing groups is that the others can't be trusted to remain in charge," he writes.
New elections are the only way out, he concludes, and the US must be prepared to encourage a peaceful, corruption-free process.
Nigeria
A nation of contradictions - Nigeria recently passed South Africa to become the largest economic power in Africa. It also was unable to prevent more than 200 schoolgirls from being kidnapped by the extremist Muslim group Boko Haram.
What is the reality in Nigeria, asks Richard Fenning, CEO of Control Risks, in Forbes: "a vibrant market leading the African renaissance or a state on the brink of failure that cannot fulfil its most basic obligation to protect its children while they attend school"?
It's both, he answers.
"Sometimes the binary nature of external analysis makes it difficult for outsiders to hold both realities in their head at the same time, seeing such sharp contrasts incorrectly as alternative and mutually exclusive realities," he writes.
Egypt
Democracy is not a priority - Former US President Jimmy Carter was wrong when he warned that Egypt's transition to democracy is in danger of stalling, writes Michael Jansen in the Jordan Times. In reality, he says, there never was any effort at a transition.
"The main reason for this failure is the fact that the democratic forces were - and are - too undeveloped, divided and weak to tackle the counter-revolutionary authoritarian forces," he says.
When the Muslim Brotherhood took over for ousted President Hosni Mubarak, it "dismissed the demands of the revolutionaries and did nothing to improve the lives of hard-pressed Egyptians".
Now Egyptians are embracing former army chief Abdul Fattah al-Sisi, who is seen as "Mr Security".
"In the view of Egyptians who will vote for Sisi," he writes, "steering Egypt towards the road to democracy comes second to security."
Canada
Girl to forgo modern cancer treatment - Makayla Sault, a 11-year-old New Credit First Nation tribe member, has declined a second round of cancer chemotherapy, instead opting for traditional native medicine.
The girl and her parents recently won a legal battle with the Canadian government, which was pushing for her to continue an aggressive treatment that is reported to have a 70% success rate for Makayla's type of leukemia.
The National Post's Christie Blathford writes that the family and Canadian health officials are behaving honourably, she worries that Makayla's best interests are not being protected. While Canadian officials are respecting the girl's cultural heritage, she writes, "if any of the parties need training in cultural competency, it would be the traditional healers whose culture isn't in doubt, but whose competency very much is".
BBC Monitoring's quotes of the day
Chinese and Russian newspapers have reacted favourably to a 30-year deal in which Russia will deliver some 38 billion cubic metres of natural gas to China annually for an estimated $400b (£237b).
"If the Chinese-Russian energy trade switches to the [Russian] rouble and [Chinese] renminbi in settling transactions, the world economy will enter a new era. It could trigger a domino effect and encourage more countries to shun the US dollar in the international energy trade… The dominance of the US dollars would decline... challenging US control over global economic and political affairs." - Cheng Yawen in Beijing's Youth Daily.
"China's aim is to hope that Russia will lend a hand in the issues in the East China Sea in resisting the alliance between the US and Japan… From Beijing's perspective, giving money away to the enemies' enemy has become a political wisdom that it thinks is brilliant. The problem is that Beijing will run out of money someday. If it has no more money to give away, will Russia still come to China's aid?" - Commentary in Hong Kong's Oriental Dail.
"China is slowly but surely securing a guaranteed supply base, 'its own Canada', unaffected by any Western sanctions, blockades or military pressure.'' - Vasiliy Kashin in Vedomosti.
"The gas contract with China is a breakthrough in the development of relations with Asia in the energy sector... This contract offers Russia a great opportunity for manoeuvring in talks with other foreign buyers of gas, mainly European ones.'' - Nikolay Makeyev in Moskovskiy Komsomolets.
Have you found an interesting opinion piece about global issues that we missed? Share it with us via email at echochambers (at) bbc.co.uk.