Julian Castro: A Latino star for Democrats?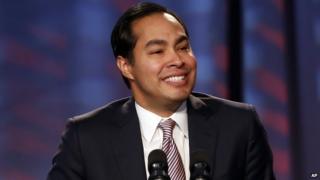 A review of the best commentary on and around the world...
Today's must-read
Word leaked over the weekend that President Barack Obama planned to nominate San Antonio, Texas, Mayor Julian Castro as the next secretary of the Department of Housing and Urban Development.
It would be a major increase in visibility for a man who has been considered a rising star in the Democratic Party. Of Mexican descent, Mr Castro would become one of the highest-profile Latinos in a party that has long relied on the support of Hispanic voters.
San Antonio Express-News columnist Gilbert Garcia writes that Mr Castro's move represents a logical next step for Mr Castro, since he has little prospects for higher office in his solidly conservative home state of Texas.
"As a young, ambitious politician," he writes, "Castro needs a cabinet appointment to give him stature" and possibly, he adds, make him attractive as a vice-presidential selection in 2016.
"To national Democrats, he represents promise and potential and fresh energy, but he needs some Beltway gravitas to go with it," he adds.
Garcia compares Mr Castro's career track to a Texas Republican from an earlier generation, former President George HW Bush, who relied on political appointments to rise through the party ranks outside of then-solidly-Democratic Texas.
"The George HW Bush model shows how far a savvy politician can go without actually winning elections," he writes.
Meanwhile, Breitbart's Bob Price writes that Mr Castro's opposition to voter ID laws and support for Hispanic activism means he is just another Democratic politician with a "penchant for radical liberalism".
While the Republican Party features several high-profile Hispanics, including New Mexico Governor Susana Martinez, and Senators Ted Cruz and Marco Rubio, the Democrats have had few such politicians achieve star status.
Mr Castro gave the keynote address at the Democratic National Convention in 2012. Although he was a relative unknown at the time, the same could be said about President Barack Obama when the then-Illinois state senator was the keynote speaker at the 2004 convention.
Uruguay
Jose Mujica is becoming a progressive hero - By supporting abortion rights, legalising gay marriage and decriminalising marijuana, Uruguayan President Jose Mujica has become "the darling of progressives everywhere", writes the Washington Post's Ishaan Tharoor.
Mr Mujica also recently announced that his nation would accept six detainees from the US prison at Guantanamo Bay, Cuba, who cannot be returned to their home countries due to concerns for their safety.
"Mujica may represent one of South America's smallest countries," Tharoor writes, "but his large-heartedness deserves the global recognition it's now getting."
Russia
End US dependence on Russian rockets - The US space programme has been slow to come to grips with the danger Russia's more belligerent foreign policy presents to human spaceflight, writes aerospace engineer Rand Simberg in USA Today.
Now, he says, the head of the Russian space programme has threatened to cut off US access to the International Space Station. This may be bluster, he writes, but the US government should take it seriously.
Congress, he concludes, must appropriate the funds required to develop its own manned spaceflight capabilities.
"We have invested decades and many tens of billions of dollars in a space station that we cannot currently get to without buying rides from an adversary in a renewed Cold War with temperature rising," he concludes.
China
Following Japan's pre-war strategy - In the years leading up to World War Two, writes Bloomberg View's James Gibney, Japan repeatedly violated China's sovereign territory and attempted to isolate its neighbours diplomatically.
History is repeating itself, he says, except this time China is the aggressor - by placing an oil-drilling platform in Vietnamese waters and harshly condemning Japan's more assertive foreign policy.
Just as in the 1930s, he writes, this type of behaviour will result in "nationalist outbursts in the countries China seeks to intimidate, which in turn could increase the risks of miscalculation and hostilities".
Qatar
A World Cup mistake - The upcoming World Cup in Brazil may have more than its share of problems, writes US News & World Report's Pat Garofalo, but it's nothing compared to what may be in store when Qatar hosts the football tournament in 2022.
Prior to being awarded the World Cup by football's governing body, Fifa, the challenges facing Qatar were clear, she says: "The country didn't have enough stadiums, has a miserable human rights record and, oh, will be extremely hot during the months when the World Cup usually takes place."
While the facilities and heat still remain a problem, she writes, it's the human rights violations that are the most disturbing. Although Qatar his promised reforms to its immigrant labour programme, she says human rights observers remain unconvinced.
"This was an almost inevitable result of Fifa's, and the international sporting world's, emphasis on placing big events in countries that can pay the most to build shiny, new facilities, not those who would be the best hosts," she argues.
BBC Monitoring's quotes of the day
Papers in the Middle East are commenting on the storming on Sunday of the parliament building in the Libyan capital, Tripoli, by heavily armed gunmen. Lawmakers said the attack had been an attempted coup. The renegade general blamed by many for the attack, Khalifa Hifter, called for parliament to be suspended. He has been mounting attacks against Islamist factions he accuses of hindering Libya's recovery from civil war.
"Mr Hifter's reference to [Islamist] militias in order to justify the coup is a marketing tool to sell the coup to the Americans who believe that some of these militias were involved in the killing of the US ambassador in Benghazi." - Yasir al-Za'atrah in Jordan's Al-Dustur.
"There is a total security breakdown in Libya, and all that is happening across the country, especially in Benghazi, because of the absence of law and order... Libya needs a serious, effective and collective initiative to re-establish security ... as this is the last hope for the people." - Editorial in United Arab Emirates' Al-Bayan.
"Libyans have discovered that the problem is not Muammar Gaddafi's regime but that they are the problem… Nato thought that by liberating Libya from Gaddafi they would help create a different country, not one dominated by backwardness." - Editorial in Oman's Al-Watan.
Have you found an interesting opinion piece about global issues that we missed? Share it with us via email at echochambers (at) bbc.co.uk.