Should offensive rap music be banned from locker rooms?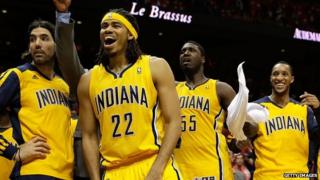 Let us pause for a moment to take stock of behavioural expectations in the post-Donald Sterling world of sport.
Make racist comments in a secretly recorded private conversation: not OK.
Refer to an opponent's ethnicity in an obscenity-laced post-boxing-match outburst: not OK.
Tweet "horrible" after watching video of an openly gay American football player kiss his boyfriend, on learning he was drafted by an NFL team: not OK.
Play obscenity-laden music with lyrics that are demeaning to gay people and women in a basketball locker room before a game … OK?
Washington Post sports columnist Mike Wise set off debate over that last example on Wednesday when he heard a song by the controversial rap band Tyga and The Game playing in the Indiana Pacers' locker room prior to a playoff game against the Washington Wizards.
"Pacers' pre-game locker room is pounding gangsta rap with Tiger and the Game," he tweeted to his more than 20,000 followers. "Apparently the N-bomb debate is not happening in Indiana."
After being called "whitey" by one Twitter follower and informed that he misspelled the rapper's name, Wise responded:
Oh, my bad, dawgs. It's TYGA and The Game. And it's straight-up filthy, like where some guys on the team look uncomfortable listening.
And then Wise referenced National Basketball Commissioner Adam Silver, who recently announced Mr Sterling's lifetime ban from the league for his racist comments:
B--ch this, H- that. Nbombs. If I was Adam Silver, I would take a hard look at locker room music as part of a mutually respectful league.
And so began further outpouring of rage from Twitter and the subsequent media firestorm.
The problem wasn't that Wise was criticising objectionable rap lyrics being played in a locker room with media present, writes Sports Illustrated's Gabriel Baumgaertner. It's how he did it:
This isn't the case of a dad confiscating a Parental Advisory labelled album from his adolescent son. Wise finds the music so odious that he wants the commissioner, Adam Silver (who should be preparing for the Donald Sterling's impending storm of litigation) to do what? Ban objectionable music from the locker room? Have the players submit their iTunes collections to an NBA decency czar?
Robert Littal of BlackSportsOnline came to Wise's defence. He says he understands what the Post columnist was saying, although it "came across funny".
"The locker room is a player's sanctuary, but maybe when the media is there, they can try to be a little more understanding that their music could be offensive to some," he writes. "I am not just talking about white people, but offensive to people in general."
If the music isn't appropriate to be played for the general public in the arena, he concludes, "it shouldn't be played when locker room is open to the media".
Wise's use of the words "my dawgs" was the real problem, writes Esteban On of TotalProSports.com.
"That's what really sets the tone and determines the way people interpret everything else he has to say," he writes.
"The debate over the use of offensive language in rap music has been going on for over 20 years," he continues. "If Wise wants to stir that up again, that's fine. In fact, it's even warranted."
The way Wise went about it, On says, was condescending, childish and insensitive to black culture. The controversy is ruining Wise's reputation, he asserts, and he should apologise.
On Sunday Wise wrote a column about the controversy - and it was far from an apology.
"Because the offensive music was rap, I was branded Mr. Middle-Age White Guy Who Hates Black Athletes' Music on social media and in online columns," he writes. "Because I had the temerity to ask whether this was appropriate in a workplace, the discourse became about me, my complexion and my sensibilities."
He continues:
There was only one debate that should have taken place, and it was about what constitutes a public workspace. That the offending scenario played out under the banner of the same league that refused to tolerate a bigot such as Sterling in its midst only added to the poignancy. Or the irony. Or both.
"You can't ban Sterling from NBA arenas in the interest of inclusiveness and at the same time allow misogynist, racial and gay slurs to roar through the speakers of your locker rooms," he concludes. "And you can't vilify one aging white guy for his disgusting, hurtful thoughts and words and then vilify another for suggesting similarly disgusting, hurtful words have no place in our world."
A story like this wouldn't exist without the Donald Sterling controversy. It has created an oxygen-rich environment where even the smallest spark can set off an explosion.
There were many who said that the swiftness and severity of Mr Sterling's high-profile punishment would change the world of sport - and early indications are that it has. But is this new world better or worse?