Boxer Adrien Broner suspended for 'racially offensive' diatribe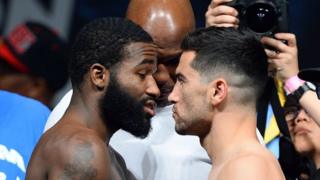 Boxing has long been a sport of spirited taunting.
Former heavyweight champion Muhammad Ali was a master of the practice, calling one opponent "so ugly that he should donate his face to the US Bureau of Wildlife" and saying he'd beat an opponent so badly "he'll need a shoehorn to put his hat on".
Welterweight boxer Adrien Broner's attempts at such braggadocio after defeating Carlos Molina - an American of Mexican heritage - veered into racist slurs, however.
During a televised post-match interview with Showtime's Jim Gray, Broner - who is black - referred to himself as the "can man" and said: "Anybody can get it. Afri-cans, I just beat the f--k out of a Mexi-can."
Even for boxing this was a line crossed, and on Thursday the World Boxing Council announced Broner had received an indefinite suspension from the sport until he "makes a public apology satisfactory to the public of the world":
Adrien Broner, former WBC lightweight champion, has offended many persons of the world with his words during the interview after the fight v Molina. The World Boxing Council holds human equality as its banner and will not accept a former WBC champion to make racially offensive statements.Since words have different meanings and can be interpreted in different ways, the WBC is issuing this open letter to Adrien Broner to either clarify what he meant with his words or to issue a public apology if those words were intended to be disrespectful and offensive... Boxing is a great sport, it is a world sport, and boxers are honourable and exemplary members of the community. Fair play and human equality must always be upheld.
Given that professional basketball team owner Donald Sterling was recently suspended for life for making racist statements in a secretly recorded private conversation, the sporting world has become particularly sensitised to offensive language.
"Broner, who has always been a showboat, a kind of Apollo Creed for the Twitter generation, has crossed a line with this recent tirade," writes Classicalite's Drew Jacobs. "Amidst all the news breaking about classless rednecks making stupid comments, a time has come for civility to make a comeback."
Boxing Insider's Sean Crose, disagrees, saying it's ironic that an organisation that governs a sport "where athletes regularly punch each other in the face" is so concerned about a participant's "good manners".
"The fact that Broner employed the word 'Mexican' was presumably too much for the WBC - which itself has a history of raising eyebrows - to stomach," he writes.
He notes that the WBC did not suspend Floyd Mayweather Jr in 2010 for calling Manny Pacquiao "a little yellow chump".
He continues:
We live in an age, of course, where offending certain people - though definitely not all people - is considered taboo. At least in some cases. It depends, actually, on who does the offending. And if the offended party is deemed worth caring about. It's all very advanced and complex, you see. Best to just let the most honourable and brightest among us sort it all out.
Shortly after the Sterling suspension was announced, ESPN's Jason Whitlock warned that the precedent for handing down suspensions for objectionable language means "it won't be long before a parade of athletes joins Sterling on Ignorance Island".
Broner, it seems, has booked his reservations.