Home ownership: Middle-class dream denied?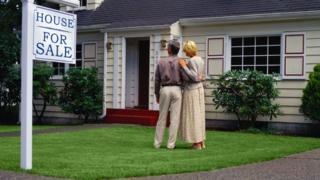 A review of the best commentary on and around the world...
Today's must-read
In 2013 home ownership in the US dropped to 65%, its lowest level in 15 years, writes New Geography's Joel Kotkin.
Is it time for Americans to turn their back on the suburban single-family home and become "renting serfs"?
"Do we want Americans to abandon homeownership, leave the less-crowded periphery for congested areas, adopting the chock-a-block lifestyle much as many of their grandparents did?" he asks.
For most middle-class Americans, a home is the most significant investment they will make in their life - "the one place where they can gain equity and, perhaps more importantly, some sense of autonomy", Kotkin writes.
It's easy for the wealthy to advocate the middle class moving away from a culture of home ownership, since it's a sacrifice they don't have to make, Kotkin continues. He cites an LA Weekly article that showed most of Los Angeles's "smart growth" advocates live in gated communities with large houses.
Kotkin writes:
The current drive to discourage middle-class homeownership really represents a kind of class warfare, albeit unacknowledged, waged by wealthy people upon the middle class, who, the wealthy suggest, should live smaller even as they indulge ever-expanding luxury.
South Korea
The government's unforgivable handling of the ferry disaster - The South Korean government's response to the sinking of the ferry Sewol has been terrible, Bloomberg View's William Pesek writes, and has served as a huge shock to the South Korean people.
There is still hope for the government to recover, he says, if it can conduct the investigation "boldly and transparently". President Park Geun-hye must also confront cultural issues, such as "Koreans' legendarily reflexive obedience to authority" that may have contributed to the loss of life.
"Koreans have amply proven that they know how to confront and fix problems in their society and economy," he concludes. "I have faith they can do so again."
India
The Gandhi cap becomes a symbol of reform - The iconic white cap popularised by Mahatma Gandhi had fallen out of favour, writes BBC's Andrew Whitehead, but it is now being embraced by a political party running against Gandhi's Congress Party.
The anti-corruption Aam Aadmi Party "wants to sweep away what it sees as a corrupt political system, and Congress and the other parties allegedly complicit in that system", Whitehead writes.
"From humble headwear to haute couture, from political emblem to style accessory, the Gandhi cap had undergone quite a transformation," he concludes.
Vietnam
A new kind of censorship - Vietnamese long had to endure political censorship at the hands of their government, writes Nguyen Qui Duc in the New York Times. Today, he says, "censorship has become a pretext for extortion".
Any creative work can bypass censorship and receive wider distribution for a price, he notes - but that means artists are pressured to produce only commercially successful creations.
"Artists must choose either to produce noncontroversial, commercial works and pay up, or resign themselves to doing what they want for a tiny audience," he concludes.
Italy
A nation buried in bureaucracy - A shipment moving across Italy requires a different set of paperwork each time it crosses a regional border, writes Corriere Della Sera's Sergio Rizzo.
"It's a story emblematic of bureaucracy gone mad and how Italy has managed to complicate life with half-boiled federalism," he says. Efforts at reform have proven unsuccessful.
This results in "an embarrassing quality gap between Italy's infrastructure and that of our competitors", he concludes.
BBC Monitoring's quotes of the day
Chinese media react to US President Barack Obama's assurance to Japanese Prime Minister Shinzo Abe that the mutual defence agreement between their two nations covers the disputed Senkaku/Diaoyu islands.
"The 'Security Treaty between the US and Japan' is a product left from the Cold War era and is unable to change the fact that the Diaoyu Islands belong to China. Regardless of what anyone says or does, they cannot shake the determination or the willpower of the Chinese government and the Chinese people to defend national sovereignty and integrity." - Party Secretary Ye Xiaowen in People's Daily.
"It can be predicted that the US will not soften its stance on the South China Sea issue... China needs to be adequately prepared and adopt stabilising measures accordingly." - Zhou Qi in Global Times.
"The US is the author of the Diaoyu Islands row, as the US unilaterally gave the Diaoyus to Japan out of Cold War considerations when they should have been returned to China. Mr Obama breaks the US practice of not taking sides in the Diaoyu Islands row and blatantly sides with Japan with the aim of supressing China's development and rise. Through using the Diaoyu Islands as bait, the US has turned Japan into a dog that is even more willing to spend its life working for the US." - Editorial in Hong Kong's Wen Wei Po.
Have you found an interesting opinion piece about global issues that we missed? Share it with us via email at echochambers (at) bbc.co.uk.