Missouri governor faces impeachment calls over gay marriage move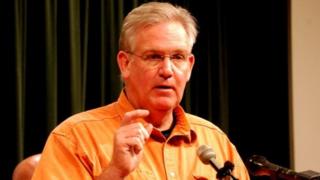 A review of the best commentary on and around the world...
Today's must-read
On Wednesday a group of state legislators in Missouri began debate on a proposal to impeach Democratic Governor Jay Nixon for issuing an executive order allowing same-sex couples to file joint state income tax returns.
Although gay marriage is illegal in Missouri, Mr Nixon's order would recognise legal marriage certificates issued in other states for tax purposes.
"This is such a blatant and serious violation of Missouri's constitution and Missouri law that the governor should be removed from office," Republican state Representative Nick Marshall told the Missouri House Judiciary Committee.
The Kansas City Star's Yael T Abouhalkah thinks the impeachment push is a "sham". He calls it "yet another inane waste of time by our taxpayer-supported lawmakers in Jefferson City".
He continues:
It sure is a good thing that the state of Missouri has no bigger issues to deal with than these artificial attempts to get publicity and generate support from ardent Republican voters in home legislative districts.
On 26 June, 2013, the Supreme Court struck down a federal law that prevented the US government from recognising state-sanctioned gay marriages. The Treasury Department announced in August 2013 that same-sex couples could file as married on federal tax returns. States, however, can still choose whether or not to recognise same-sex unions performed elsewhere.
Mr Nixon also faces two additional articles of impeachment - one over delays in special elections for open seats and the other related to his handling of a concealed firearm permit controversy.
Republicans hold large majorities in both the state Senate and the House, but with only four weeks remaining in the legislative calendar, if impeachment proceedings are to proceed they will likely have to be restarted in the next session.
Colombia
Gabriel Garcia Marquez was no hero - The career of Gabriel Garcia Marquez, who died on 17 April, was a "weird blend of literary brilliance and political rottenness", writes the Washington Post's Charles Lane.
Mr Marquez refused to denounce the "Stalanesque spectacle" following the arrest and forced confession of author Heberto Padilla in Fidel Castro's Cuba, Lane says.
Mr Marquez became a "de facto member of Castro's inner circle", he writes, and he "lent his celebrity and eloquence to the regime's propaganda mill".
Canada
Yes, our middle class is thriving - The New York Times report that Canada has passed the US in middle-class wealth is good news for Canadian conservatives, writes the Globe and Mail's Konrad Yakabuski.
Although he takes issue with some aspects of the report - such as its failure to account for employer-paid health benefits in the US and the after-effects of the US housing crash - he says it's true that Canada has "done better". He says this throws a wrench in the plans by Canadian liberals to use class warfare to win upcoming elections.
Palestinian territories
The challenge of the Fatah-Hamas union - The announcement this week that the two rival Palestinian factions, Fatah and Hamas, are creating a unified Palestinian government presents a sticky problem for US foreign policy, writes the American Prospect's Matthew Duss.
He says the Obama administration will have to determine if this development means Hamas is moving away from its militant rhetoric or Fatah is embracing it.
The question, he says, is whether Secretary of State John Kerry can "be creative enough to convert this latest crisis into an opportunity".
Spain
An economic turning point - Spain is rebounding from the crash of its housing bubble and is building its economy on the back of revitalised trade, writes Nobel Prize-winning economist Michael Spence.
He says the "road back to full employment and sustainable growth will not be built overnight", but that things are progressing faster than many predicted.
"Spain appears to be in the early stages of restoring a balanced and sustainable growth pattern," he says. "One hopes that others will soon follow its example."
BBC Monitoring's quotes of the day
On Wednesday Turkish President Recep Tayyip Erdogan expressed his "condolences" for the mass killings and forced relocation of Armenians under Ottoman rule during World War I. Turkish and Armenian commentators react.
"A taboo has been broken, a page has been opened… There is no mention of the genocide word in the prime minister's condolence message; there is no apology either. But there is a strong feeling of awareness, a strong ownership of the issue and indications of a strong intent." - Ali Bayramoglu in Turkey's Yeni Safak.
"Apologising is not a weakness but a strength… It is obvious that calling these incidents 'genocide' does not help Turkey to face these pitch-black pages of its history. But, as with all black pages in our history, we have to face this and protect ourselves as a society… We have to achieve Turkish-Armenian reconciliation." - Sahin Alpay in Turkey's Zaman.
"Instead of offering apologies, Erdogan offered condolences as if there was an earthquake in the Ottoman empire." - Kiro Manoyan of Armenian Revolutionary Federation (ARF) - Dashnaktsutyun in Armenia's Aravot.
"Yesterday's message was equivalent to crossing the Rubicon, as it officially lifted the bans and taboos on discussing the Armenian genocide in Turkey. Mentioning 'common pain' or 'common past' might please some, while others will be dissatisfied, but this is a way toward exploring the past, acknowledging facts and achieving reconciliation with the past." - Lusine Petrosyan in Armenia's Hraparak.
Have you found an interesting opinion piece about global issues that we missed? Share it with us via email at echochambers (at) bbc.co.uk.