Kathleen Sebelius for Senate?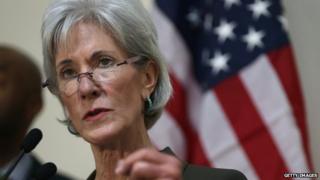 The New York Times reported on Wednesday that Kathleen Sebelius, who last week announced her plan to resign after five years as US health secretary, is "considering" a run for the US Senate in her home state of Kansas.
When news of her impending departure broke, journalists rushed to pen Ms Sebelius's political obituary. How would she be remembered? How responsible was she for the rocky rollout of the healthcare reform websites in autumn 2013? How much credit can she take for the late surge in enrolment?
As the Wire's Philip Bump quips, Ms Sebelius's last name should be changed to "Kathleen Sebelius-Who-Oversaw-the-Botched-Obamacare-Rollout".
Comeback stories are nothing new in politics, however. Ms Sebelius does have a history of political success in Kansas, having been elected as the traditionally conservative state's governor in 2002 and re-elected with 58% of the vote in 2006.
On the other hand, it's not 2006 anymore, and Ms Sebelius would have to overcome the challenge of being second only to President Barack Obama as the public face of the still very controversial healthcare reform.
Her name was on the Supreme Court case challenging the law's constitutionality. She was grilled frequently by hostile Republicans during congressional hearings. Even her Rose Garden goodbye speech had an embarrassing missing-page glitch.
The report Sebelius would run for Senate has been dismissed by others in the mainstream press.
Bump writes that there may be a "parallel dimension out there in which Kathleen Sebelius' tenure as HHS Secretary was an unalloyed success, the sort of thing that would propel her to victory in the Kansas Senate campaign", but "that dimension is not this one".
"It's really hard to see why Ms Sebelius would envision any real path to victory so close to Obamacare's implementation," writes the Washington Post's Aaron Blake.
Others close to Ms Sebelius told Washington newspaper The Hill that they doubted the secretary would run.
"I know she's tired," a former staffer says.
On the right the prospect of a Sebelius campaign was met with a mixture of glee and ridicule.
"If Kathleen Sebelius wants to come back to Kansas to run for office we will pay her bus fare," Kansas Republican Party Chair Kelly Arnold told the New York Daily News.
Stephen Kruiser writes on PJ Media that, for Democrats, "now we know what the shelf life for feigned shame over a job poorly done is".
"Just a few days after the left media tried to-wink, wink, nudge, nudge-pretend that [Ms Sebelius] was the fall gal for the nightmarish Obamacare rollout," he says, "they are now touting her troubled tenure as a resume builder."
Conservatives took to Twitter to post their suggested #SebeliusCampaignSlogans, which the conservative website Twitchy.com collected. Many riffed on the "404 errors" users received when trying to access the dysfunctional federal healthcare website last October - "404ward" and "404 more years", for example.
General consensus, it seems, is that Ms Sebelius has little to no shot at winning. Recent poll numbers seem to back that up. And yet, as Bump says, "weirder things have happened".
"Dead people have been elected to federal office," he writes. "Prison inmates have been elected to federal office."
(Proposed #SebeliusCampaignSlogan: "Better prospects than the dead or imprisoned".)
There's a personal angle in all this. The incumbent is 77-year-old Republican Pat Roberts, an old family friend of Ms Sebelius who backed her nomination to be secretary in 2009. Mr Roberts turned on the secretary in 2013, however, accusing her of "gross incompetence" and calling for her resignation.
According to the Times, beating Mr Roberts - or even making him sweat his re-election - could be why she is "weighing revenge".
There's also the chance that Mr Roberts could be unseated in the Republican state primary by fire-breathing grass-roots conservative Milton Wolf. Such a development has put several thought-to-be-safe Republican seats into play in recent elections.
At the very least, Ms Sebelius is a seasoned campaigner with name recognition and the ability to fundraise on a national level. She could present enough of a threat to draw Republican time and money away from other, more crucial races. All that means she's probably better than anyone else the Democrats, who haven't won a Kansas Senate seat since 1939, could put on the ballot at this point.
Ms Sebelius - who will not formally resign as secretary until her successor is confirmed - has until 2 June to file paperwork declaring her candidacy.