Rand Paul's Iranian 'nuance'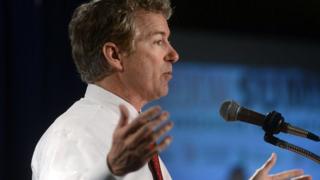 A review of the best commentary on and around the world...
Today's must-read
Rand Paul doesn't support containment in Iran. But he also doesn't not support it. He could be in favour of containment in the future, but there's a chance he might not be.
In an op-ed for the Washington Post, Mr Paul lays out a "nuanced" position on the US relationship with Iran, the type of position he says has been missing recently in American foreign policy. Like former US President Ronald Reagan, the senator says he favours strategic ambiguity.
"Containment of Iran is a bad idea, but our leaders need to think before they speak and consider that preemptively announcing responses to every hypothetical situation may well damage our ability to keep the United States safe and strong," he writes.
For Washington Post blogger Jennifer Rubin, Mr Paul's stance only illustrates a misunderstanding of how foreign policy is forged.
"Strategic ambiguity means we don't reveal our strategy, not that we don't reveal our position on a given issue, especially one as critical as this," she writes.
It isn't a coincidence that no politician has argued that remaining ambiguous on Iran is the right strategy, she says, and that's because it could come across as an endorsement for a nuclear Iran.
"Foes and friends shouldn't have to guess at our bottom line," she writes.
United Kingdom
Scottish Independence picks up steam - The world needs to brace for the impact of an independent Scotland, writes Kevin A Lees for the National Interest.
"Of course," he says, "the future of an independent Scotland in the 21st century is a leap into the unknown." Five months out from the vote for independence, the number of those supporting a split is growing, and a stronger relationship between the US and Scotland could be mutually beneficial, he says.
India
Recognition of a third gender must be a first step - The Indian Supreme Court ruled that discriminating against transgender people is against the spirit of the country's constitution. While this is a landmark decision, the editors of the Times of India think that this should pave the way for more anti-discriminatory rulings.
"While the apex court's judgment forms a welcome legal basis for transgender persons to secure their rights, the spirit of the order also needs to extend to Section 377 of the penal code that criminalises homosexuality," they write.
Canada
No answers to Calgary mass stabbing - Sometimes when tragedy strikes there is no explanation for how it happened, write the editors of the Calgary Herald. That is the case in Calgary today, after five young people were stabbed to death at a party.
In the wake of the city's worst mass murder, they can't find an explanation for how or why this could have happened. "Sometimes, there are no ready answers and no getting our minds around the thing," they write. "Sometimes, all we can do is grieve."
Nigeria
The monster of terrorism - It is often hard for foreigners to distinguish between aid and interference, writes Adaobi Tricia Nwaubani for the New York Times. But in Nigeria, where Boko Haram attacks have already claimed more than 1,500 lives this year, perhaps outside help is exactly what the country needs.
"The sad truth is that foreigners are largely refining Nigeria's crude oil, powering many of our cell phones and running some of our best schools," she writes. "They might as well step up in yet another area where locals are falling short."
BBC Monitoring's quotes of the day
Israeli commentators express anger over an attack in Hebron that killed an Israeli policemen and injured his family.
"We must not be content with a minor reaction; a twice as hard hit in return will make it clear to our bad neighbours that Israel does not come to terms with even a minor dose of terrorist attacks." - Hagai Segal in Israeli daily Yedioth Aharonoth.
"The State of Israel will know how to exact the full price from those who preached for murdering Jews and in whose name the murderers fired the bullets of death. There is a fitting punishment response and the security forces and the judicial system will deal with it. However, there is also a fitting Jewish response more efficient than all - to build Jewish homes along every route taken by the family to the outskirts of Hebron; this is the only response that the murderers of our people understand." - Haim Shain in Yisrael Hayom
Have you found an interesting opinion piece about global issues that we missed? Share it with us via email at echochambers (at) bbc.co.uk.