Yasiel Puig's escape from Cuba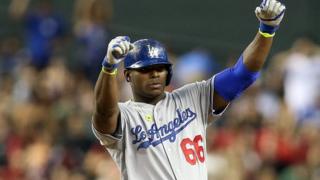 The Los Angeles Dodgers' Yasiel Puig is many things - a Major League Baseball all-star, a multimillionaire with a seven-year, $42m (£25m) contract and a hero to countless Southern California baseball fans.
He is also a Cuban defector who allegedly reported some of those who attempted to lure him to the US to Cuban authorities, while secretly trying multiple times to flee his island home.
Puig's harrowing and ultimately successful escape is recounted in an article by Jesse Katz in Los Angeles Magazine.
"An elaborate underground of couriers and bagmen is forever shadowing Cuba's best ballplayers," Katz writes. "So is a state-sponsored network of secret police and paid informants. When you are being lured and monitored at every turn, caught between ambition and duty, survival sometimes means playing both sides."
Katz describes how a Miami-area businessman with a criminal record, Raul Pacheco, agreed to pay $250,000 to Cuban smugglers with ties to a Mexican drug cartel to whisk Puig and several others to Mexico, where he could seek asylum and then negotiate a professional baseball contract.
In exchange Puig allegedly agreed to give 20% of his future baseball earnings to Mr Pacheco.
Katz writes that Puig and company "were not the first to employ this scheme, a version of which has catapulted many of baseball's new Cuban millionaires to American shores. It is usurious and expedient, illicit and tolerated."
Things went awry once Puig arrived in Mexico, however, as Katz reports that Mr Pacheco was reluctant to pay. For weeks the smugglers held Puig in a seedy motel on Isla Mujeres, making threats against Puig and attempting to auction the player off to US sports agents.
Mr Pacheco finally organised a group to rescue the ballplayer and bring him to Mexico City, where he auditioned for baseball scouts. The Dodgers, who had been watching Puig since he was on the Cuban national baseball team, quickly offered him the big-money contract that set him on his way to becoming a nationally recognised baseball star in less than a year.
It seems Puig's past has continued to haunt him, however. Katz recounts how the smugglers threatened Puig and his family in an attempt to collect the money they felt Puig and his associates owed them.
Katz quotes one former friend of Puig's who says a man connected to Puig promised to "neutralise" the leader of the smugglers. A month later, the smuggler died from multiple gunshot wounds in Mexico. Puig's ex-friend wonders whether the apparent assassination was somehow tied to the threats - or if Puig's people met the smugglers' demands.
"It's a great story full of scenes that feel ripped straight from a screenplay, but above all it reveals that Puig's past is incredibly complex and harrowing," writes Deadspin's Tom Ley.
"The worst case scenario is that Puig is a ruthless opportunist who will betray and harm others for his own good," he writes. "A more charitable interpretation sees Puig as someone trying to survive and navigate his way through a dangerous underworld full of crooks, drug dealers and smugglers."
Los Angeles Times columnist Bill Plaschke wonders what became of the smugglers.
"Now that Puig is a multi-millionaire, are the smugglers still involved, and could that involvement one day lead to Dodger Stadium?" he asks.
"Shortly after Puig's arrival last summer, the bodyguard quotient around the Dodgers' dugout noticeably increased," he writes. "This winter, that same security detail could be seen around Puig in public. One can only hope this season the added security remains, both on the field and in the stands, particularly when Puig is standing alone in right field."
Yahoo Sports's Mike Oz calls Puig's story "a good reminder that nothing he does on a baseball field - hitting a cut-off man or trying to take an extra base, even when ill-advised - has the grave stakes Puig faced just trying to get to this country."