Parental 'help' at school could hurt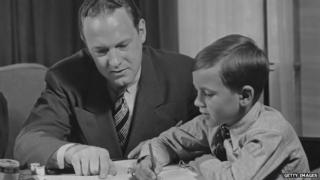 A review of the best commentary on and around the world...
Today's must-read
It's an assumed truth that the more parents are involved in their children's schooling, the more academically successful those kids will be.
Not so fast, argue Prof Keith Robinson of the University of Texas and Prof Angel L Harris of Duke University. They conducted a study on various forms of parental involvement - helping with homework, talking to teachers, visiting a child's classroom - and found that more active parents not only didn't help, they occasionally hurt.
It's important for parents to teach their children to value education, expect they will go to college and making sure they get assigned good teachers, Robinson and Harris write, but that's where the benefits end. If you're trying to help your kids with their homework, chances are you're just mucking things up.
"Regardless of a family's social class, racial or ethnic background, or a child's grade level, consistent homework help almost never improved test scores or grades," they write in a New York Times opinion piece. "Most parents appear to be ineffective at helping their children with homework. Even more surprising to us was that when parents regularly helped with homework, kids usually performed worse."
The results of the study should be taken into account when forming national education policy, Robinson and Harris say.
"Schools should move away from giving the blanket message to parents that they need to be more involved and begin to focus instead on helping parents find specific, creative ways to communicate the value of schooling, tailored to a child's age," they write.
Parents should "set the stage", they conclude, then get out of the way.
Kenya
Racial profiling of Somalis is a gross violation of human rights - The Kenyan police are trampling on the rights of ethnic Somalis when they arrest them without cause and arbitrarily demand they show national identity cards, writes Mohamed Guleid in the Standard. He compares it to the treatment Jews received during the Spanish Inquisition.
The government's actions, he concludes, violate the Kenyan constitution and numerous international treaties.
Panama
A husband-wife power swap - Panamanian President Ricardo Martinelli cannot run for re-election, so he's installing his wife, Marta, as his party's vice-presidential candidate for the 4 May elections.
The Wall Street Journal's Mary Anastasia O'Grady writes that Mr Martinelli's actions are in keeping with his drive to hold onto power at all costs and yet another example of the corruption and stifling of dissent that have typified his rule.
"The Panamanian democracy is on the ropes once more," she writes.
Ukraine
Russian invasion could lead to nuclear disaster - Ukraine's nuclear power plants could be in grave danger if open war breaks out in Ukraine, writes former US State Department official Bennett Ramberg.
Even if plants aren't directly targeted, the collateral damage from a conflict could have serious consequences.
"Fighting could disrupt off-site power plants or transmission lines servicing the reactor, and could also prevent diesel fuel from reaching the plant to replenish standby generators," he writes. "Operators could abandon their posts should violence encroach."
Without close monitoring, a nuclear power plant could suffer a radioactive emission greater than Chernobyl or Fukushima, he says.
India
Media are corrupting the election - The Indian media's focus on scandal and their "shrill activism" are creating a "sense of perpetual unease", writes Santosh Desai in the Times of India.
Presidential candidates Arvind Kejriwal and Narendra Modi have tried to take advantage of this feeling of disillusionment, he says, but Mr Modi has been the most successful.
"Constant carping criticism creates a need for order and clarity, and Narendra Modi has come forward to fill the gaping void that has been widened by the current media discourse in the country," he writes.
BBC Monitoring's quotes of the day
Coverage of the release of partial results for the first round of the Afghanistan presidential election dominates the Afghan media, as some papers criticise the IEC for delays in announcing the news.
"It seems that now [current President Hamid] Karzai has two preferred candidates... The most recent concern is that some people in election bodies want to engineer the vote results in favour of the government's preferred candidate. Undoubtedly, this time the results of a fraudulent elections are not acceptable to the Afghan people." - Editorial in Mandegar
"It is unclear why only 10% of votes have been counted so far, but the main point is that both the [election] commissions have failed to act as quickly as needed... A delay in announcing the results is questionable for all. They should put an end to this." - Editorial in Arman-e Melli.
"Residents of the country who went to the polls and showed readiness to elect their future leader despite threats by the [armed] opponents want the poll bodies to perform their duties without any fear. People also urge the presidential contenders to avoid early prejudgments." - Editorial in Anis
Have you found an interesting opinion piece about global issues that we missed? Share it with us via email at echochambers (at) bbc.co.uk.