Outspoken Islam critic in college row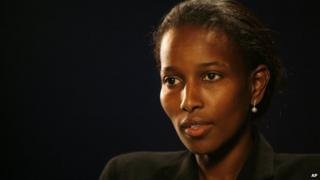 A review of the best commentary on and around the world...
Today's must-read
Brandeis University's decision not to bestow an honorary degree on a women's rights advocate and outspoken critic of the Islamic faith has generated a firestorm of criticism from conservative media outlets.
Ayaan Hirsi Ali, a Somali-born former member of the Dutch parliament, was set to receive the accolade from the university on May 18, but objections from some faculty and students led to a change of heart from university president Fred Lawrence.
She "was raised in a strict Muslim family but renounced the faith in her 30s after surviving a civil war, genital mutilation, beatings and an arranged marriage", writes the Associated Press's Paige Sutherland.
Ms Ali would go on to start a foundation to assist women in the West who were the victims of religious oppression, and she would occassionally have harsh words for the faith of her childhood.
In 2007, Ms Ali told Reason magazine that Islam needs to be defeated: "I think that we are at war with Islam. And there's no middle ground in wars."
Statements like these were cited by those who objected to Ms Ali's appearance at Brandeis's commencement ceremonies. On Tuesday they prevailed, as Brandeis announced that it "cannot overlook certain of her past statements that are inconsistent with Brandeis University's core values".
The decision was denounced by conservative commentators
"What Lawrence has done here is the nothing less than the act of a gutless, spineless, simpering coward," writes Commentary magazine's John Podhoretz.
The National Review's Charles CW Cooke compares the current controversy to Brandeis's decision in 2006 to confer an honorary degree on playwright Tony Kushner, who said things critical of Israel.
He quotes a statement by Jehuda Reinharz, who served at the time as president of Brandeis, justifying the decision: "The university does not select honorary degree recipients on the basis of their political beliefs or opinions."
Cooke goes on to write:
Perhaps I'm missing a critical emanation or penumbra here, but if the consciences and professions of its honourees have no bearing on the integrity of their achievements, it should not matter whether their convictions comport with those held by the University, should it?
He argues that the story is following a standard progression:
First, an invitation is proffered to someone of heterodox views; next, the forces of conformity congeal and solidify, circulating petitions, banging drums, and rambling about justice and what you will; then the would-be host begins to worry, announcing meekly that it is reviewing its options; and finally, the invitation is shamefully revoked, usually under the paradoxical auspices of broadmindedness and inclusion. "We're sorry," the typical explanation runs, "but we're too permissive to allow your sort".
George Mason University Prof David Bernstein writes in the Washington Post that there's plenty of blame in this controversy.
"Because Ms. Ali engages in blanket condemnation of Islam, and has expressed the desire to suppress it by force, I think she was a poor choice for an honorary degree (though a fine choice as a campus speaker or honouree in other contexts)," he writes. "Commencement should be a time to bring the community together, not to make some students, in this case students of Muslim background, feel like the university is disrespecting them."
Once Brandeis invited Ms Ali, however, "it should have stuck by that decision, especially given the Kushner precedent".
"In short," he says, "it's incompetence all the way around".
Ukraine
Ukraine needs support, wherever it is - On Tuesday we noted that only one in six Americans could find Ukraine on a map. Geographic knowledge isn't as important as a willingness to resist conduct that "violates international law and threatens the international order", says the Washington Post Charles Lane. Resisting Russian aggression in Europe, he continues, is "worrisome not only strategically but also morally".
"Foreign policy is not only about knowledge but also judgment; not only smarts but also wisdom," he writes.
South Africa
The only truth is Steenkamp is dead - Whether Oscar Pistorius is being truthful during testimony in his murder trial, writes the South Africa Mail and Guardian's Khaya Dlanga, "at the end of the day, Reeva Steenkamp is dead". He says Mr Pistorius was not "performing" when he took the stand, he was being sincere. He either felt sorrow for accidentally killing Steenakamp or remorse at the consequences of his intentional act.
"Pistorius's performance on the stand yesterday was that of a boxer who got knocked out on the first round and got up just before the ref had counted to eight - a flurry of fists whose impact left him bloodied from the very first fist," he writes.
India
Why does the international community fear Narendra Modi? - Leading Indian presidential candidate Narendra Modi has a "notorious record for ginning up religious tension in a country where this can be - and often is - deadly", writes Vox's Max Fisher.
"His ascent coincides with a rising trend of Indian right-wing Hindu nationalism that has stirred up major concern among many foreign observers," he says.
Russia
The China defence - As Western nations mulled a boycott on Russian natural gas imports, writes Bloomberg View's Leonid Bershidsky, "Chinese officials must have rubbed their hands with glee". He says China, "the biggest energy-consuming nation in the world", could be the accidental beneficiary of Russia's hunt to find a new market for its energy exports.
"Putting a squeeze on Russia by trying to strangle its energy exports will now be difficult: If Europe starts buying less of its natural gas imports from Gazprom, Gazprom can sell more to China," he says.
BBC Monitoring's quotes of the day
Russian Deputy Prime Minister Arkadiy Dvorkovich announced this week that Russia and China intend to sign a 30-year contract for natural gas supplies. Some Russian experts wonder whether China will be able to replace Europe as Russia's energy-sector partner.
"The [Russian] authorities' hopes for Chinese help look naive. It seems like ministers themselves understand that. In the face of Western sanctions, the Economic Development Ministry has published shocking new forecasts and looks like it does not take the Chinese factor into account. Experts say that China rather than the EU provides growth of the Russian economy... At the same time China will never be able to completely replace the EU, for example, in the gas sector." - Anastasiya Bashkatova in Nezavisimaya Gazeta.
"It is obvious that under pressure from the West, Gazprom will have to make significant price concessions to China which will make the undertaking with the 'eastern breakthrough' a lot less profitable if compared to the initial ambitious plans of the Russian gas monopoly." - Sergey Putilov in Novye Izvestiya.
Have you found an interesting opinion piece about global issues that we missed? Share it with us via email at echochambers (at) bbc.co.uk.